The Third Annual NABCEP PV Continuing Education Conference takes place in Denver, CO, this March.
The Third Annual NABCEP Continuing Education Conference takes place in Denver, CO, Thursday March 13 - Saturday March 15, 2014 at the Doubletree by Hilton hotel. The conference is designed for PV professionals who have attained NABCEP certification. Those who have passed the NABCEP Entry Level examination, licensed electricians and the colleagues of certificants are also invited, but they must have significant PV installation or sales experience and be able to benefit from the advanced level of the courses.

The three-day event enables NABCEP Certified PV Installation and Technical Sales Professionals to attain the 18 CE credits required for recertification. It also enables professionals who aren't yet certified to attain 18 of the 58 advanced training hours that are required for certification.
The conference will feature in-depth technical training from many of the industry's top manufacturers. "Roofing for Non-roofers," "2014 NEC Requirements for PV Systems," "Preventing Arc Faults and Ground Faults," and a panel on new software tools to reduce soft costs are among the planned sessions featuring nationally known experts. There will be ample time for networking, and participants will be able to take a behind-the-scenes tour of SMA's manufacturing plant.
Because enrollment will be on a first-come, first-serve basis, those who most need the CE hours are urged to sign up ASAP. The registration form is now "live" on the NABCEP website. Register by January 24, 2014 for the lowest rates.
Featured Product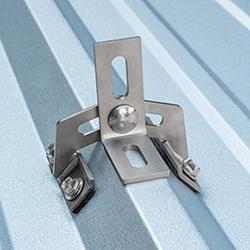 Error-Proof Compression: The QB2 doesn't leave any room for user error when it comes to Microflashing® compression. Once the Dual Drive Shoulder Screw is secured, the Microflashing® is compressed. Only 3 Components: The QB2 is comprised of Microflashing®, an L-foot and a Dual Drive Shoulder Screw. No more Nuts needed to tighten and secure the L-foot! Not only does this simplify the installation process, it also cuts down the installation time.