PowerUp Platform to Provide More Power to EC&R's Fleet of 469 GE 1.5-77 Turbines -----Additional Power Could Equate to 19 New 1.5-77 Wind Turbines for E.ON Fleet -----Agreement Complements GE and E.ON's 842 Turbine Service Agreement
SCHENECTADY, N.Y.óNovember 12, 2013óGE (NYSE: GE) today announced E.ON Climate & Renewables' (EC&R) contract for GE's newest brilliant offering, PowerUp*. PowerUp is a customized software-enabled platform that increases a wind farm's output by up to 5 percent. EC&R will enhance 469 of its GE 1.5-77 wind turbines with the PowerUp platform.

The PowerUp offering agreement between EC&R and GE is an outcomes-based approach. EC&R will pay GE only on the actual benefit of the PowerUp platform.
"The outcomes-based approach aligns well with our goals of providing cleaner, better energy at a more affordable price," said Steve Trenholm, chairman, E.ON North America. "Investment in wind energy has led to technological advancements like PowerUp that continue to make renewables more and more competitive with traditional forms of energy."
GE and EC&R have agreed to a set point of additional annual energy production per wind turbine, which could bring the equivalent power of as many as 19 new 1.5-77 wind turbines for the EC&R fleet.
"We see PowerUp as a new path to development for our customers. Without any development risk, or installation expense, EC&R will see the equivalent of 19 new turbines in the ground today," said Andy Holt, general manager of GE's renewable energy projects and services organization. "With this model, we are on the same side of the field as our customers. We succeed when they succeed."
GE will work with EC&R to perform a complete before-and-after wind farm power-performance analysis to validate the performance improvement.
PowerUp is part of GE's brilliant wind platform, which harnesses the power of the Industrial Internet to analyze tens of thousands of data points on a wind farm every second, driving higher power output, increasing services productivity and creating new revenue streams for customers. It is one of GE's predictivity technologies, leveraging connectivity and advanced analytics, and is an ecomagination qualified product.
*PowerUp is a service mark of the General Electric Company
About E.ON Climate & Renewables (EC&R)
E.ON Climate & Renewables (EC&R), headquartered in Essen, Germany, is responsible for E.ON's large-scale renewable energy activities. EC&R plays a leading role in the development of the renewable industry worldwide and is already active in onshore and offshore wind, photovoltaic and concentrating solar power. E.ON currently operates over 9 gigawatts of renewable capacity including large hydro. Since its formation in 2007, EC&R has already invested more than Ä9 billion, including more than $5 billion in the U.S solar and wind facilities, and will continue to expand the share of renewable energy in E.ON's power generation portfolio. For more information, please visit www.eon.com/renewables.
About GE
GE (NYSE: GE) works on things that matter. The best people and the best technologies taking on the toughest challenges. Finding solutions in energy, health and home, transportation and finance. Building, powering, moving and curing the world. Not just imagining. Doing. GE works. For more information, visit the company's website at www.ge.com.
About GE Power & Water
GE Power & Water provides customers with a broad array of power generation, energy delivery and water process technologies to solve their challenges locally. Power & Water works in all areas of the energy industry including renewable resources such as wind and solar; biogas and alternative fuels; and coal, oil, natural gas and nuclear energy. The business also develops advanced technologies to help solve the world's most complex challenges related to water availability and quality. Power & Water's six business units include Distributed Power, Nuclear Energy, Power Generation Products, Power Generation Services, Renewable Energy and Water & Process Technologies. Headquartered in Schenectady, N.Y., Power & Water is GE's largest industrial business.
Featured Product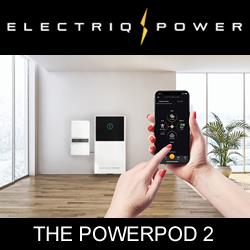 The Electriq PowerPod 2 is a fully-integrated home energy storage, management, and monitoring system powered by LFP batteries. The high-performance, cobalt-free product includes a hybrid solar/battery inverter controlled by intelligent software. The PowerPod 2 provides backup power and can self-consume or export excess power back to the grid.