For the purpose of this article the focus will be on making smarter specification of cable and wire management systems for solar installations. The reason--- these components are often overlooked.
Smarter specifying of components in the solar industry ensure long-term operational reliability

Safeguarding consistent reliability and profitability of solar power installations is a major challenge for the solar industry as a whole. Some of the greatest operational liabilities include: installation defects, weather-related damage and overall poor product performance. Each one of these issues have caused a reduction in output during operation and caused solar power owners to question the real potential of solar as a viable source of energy. Hence, the quality of solar power components must be assured in order to secure continued investment in the industry.
The most effective way solar project designers and installers can create a higher level of trust to investors is by thoroughly planning with in-depth research and verifying every detail of the design, construction and operation of the solar installation. Plus, they must partner with companies that have reputations for providing high quality-- long lasting components designed to survive in extreme environments like those found in most solar installations.
roxtec solar1.jpg
Photo Caption: Long lasting components connecting the photovoltaic cells ensure success of continuous power.
All technical components such as the inverters, photovoltaic panels, and even battery storage can all fail without great connections and extremely reliable wire/cable transits. These wire and cable components are often overlooked. Just imagine the scenario of having an electrical crew on a solar installation that needs to solve a failure of a cable/wire problem quickly. Yet, the cables and wires are disorganized--- where do they start to determine where the problem is?
Or lets say the inverter has been damaged by the intrusion of sand, dust, water or wildlife due to the sealing system failing to prevent such activities. Now you have an added cost of replacing the damaged cables and wires and sealing solution.
Overlooking the cable and wire management system causes downtime, repetitive repairs and increased operational costs. It has become increasingly clear that solar power specifiers must partner with companies that offer cable and wire management solutions that have been engineered and proven to stand up to the most demanding requirements.
So, how do you find reliable components for solar power installations?
It is fairly simple--look for companies with success in other industries with harsh environments. For example, Roxtec cable and wire sealing solutions have provided years of successful operation in many extreme environments such as offshore oil/ gas, marine, wind, chemical and water/wastewater. All of these environments are extremely harsh, very similar to solar installations.
Next, validate their testing and certifications of their product as they often provide clues to product performance in the field. If a company is hesitant about sharing results it should be a warning sign. Roxtec solutions have been tested and certified to protect many power investments against water, gas, fire, electro-magnetic disturbance, dust, vibrations, and rodents. Roxtec even provides the list of certifications on their website and willing to share testing data to any specifier's request.
roxtec solar2.jpg
Roxtec Cable and Wire Sealing Solutions for Solar:
Roxtec cable and wire sealing solutions are designed for solar applications. However, one Roxtec product for solar applications that has caught the attention of many solar component specifiers is the Roxtec EzEntry™ seal. It has been designed to help ease the difficulty of installing pre-terminated cables into inverters and combiner boxes. The EzEntry™ enables users to route and seal around multiple pre-terminated cables of different sizes in one single frame opening.
roxtec solar3.jpg
Roxtec's EzEntry™ is constructed of a lightweight composite material and is a single-sided application for easier installations. It is delivered as a complete kit-solution, including a lightweight non-metallic frame, an integrated compression unit and adaptable sealing modules for cables of different dimensions. In addition, EzEntry™ is certified for IP 66/67, UL/NEMA 4, 4x, 12, 13 protection.
Additionally, solar design engineers have been able to reduce overall cabinet size through Roxtec's compact design and save major labor costs by eliminating the need to cut and re-attach connectors. This design also allows for cost-effective maintenance and future expansion with easy re-entry into the system. Roxtec sealing systems are also customizable for cable / conduits sizes ranging from .138" to 1.28" depending on module combination within the frame.
For additional information contact: marketing@us.roxtec.com
For more information, please visit www.roxtec.com
About Roxtec and Multidiameter™
Swedish Roxtec Group is the world-leading provider of flexible modular-based cable and pipe seals. The company's invention for adaptability to cables and pipes of different sizes is called
Multidiameter™. The solution is based on sealing modules with removable rubber layers, which allows for a perfect sealing, regardless of the outside dimension of the cable or pipe. The technology simplifies design and engineering, speeds up the installation process and reduces the need for stock, material and logistics. It also provides built-in spare capacity for easy retrofit and future upgrades. Roxtec serves and supports customers in more than 70 markets through 18 subsidiaries and a network of distributors.
Featured Product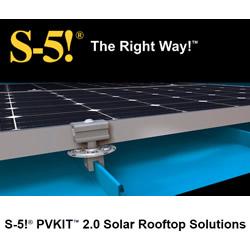 The concept of combining PV arrays with standing seam metal roofing is growing-for good reasons. Metal roofs have a life expectancy of more than 40 years. Shouldn't the mounting system last as long? With S-5! zero-penetration attachment technology and PVKIT 2.0, the solarized metal roof is the most sustainable system available -and without compromising roof warranties! PVKIT 2.0 is the also the best solution for attaching PV modules directly to any exposed fastener metal roof.