Bonds Rated BBB+, Transaction Hailed as Industry Breakthrough
SAN MATEO, Calif., Nov. 21, 2013 -- SolarCity Corp.

(Nasdaq:SCTY) today announced that it has completed what is reported to be
the first securitization of distributed solar energy assets.
SolarCity completed a private placement in the amount of $54,425,000 with an
interest rate of 4.80% and a scheduled maturity date of December 2026.
"This transaction is a breakthrough and will pave the way for others, but
its greater significance is the validation of the quality of SolarCity's
assets," said Bob Kelly, SolarCity's chief financial officer. "SolarCity
lowers what is typically the highest operating cost for households and gives
them long-term control over that cost.
Customers highly value those attributes, and that's why these assets perform
so well."
SolarCity's pool of solar contracts received an investment grade rating of
BBB+ from Standard & Poor's. The rating reflects the predictability and
quality of the cash flows and the minimal operation and production risk of
solar assets. Distributed solar is one of the first new asset classes to
achieve an investment grade rating in the asset back securities markets in
the past several years.
"Securitization gives us access to a new source of capital at a lower cost,
and it allows us to more closely align our assets and liabilities,"
continued Kelly. "We offer fixed price contracts, and by financing them with
fixed rate debt, we bring a greater level of predictability to our financing
activities."
Credit Suisse acted as sole structuring agent and sole bookrunner for the
transaction.
"The transaction represents a tremendous breakthrough for SolarCity and the
distributed generation solar industry," said Steve Viscovich, Credit Suisse
banker. "By accessing the securitization market, SolarCity has tapped into a
large pool of highly efficient capital that can be used to fund its
continued growth while significantly reducing its costs at the same time."
As part of the rating process, SolarCity hired independent engineering firm
EL Garrad Hassan to perform a technical and operational review of both
SolarCity Corporation and the pool of assets. EL Garrad Hassan's assessment
of SolarCity's full-service model--including design and installation process
and quality, system performance against forecasts, servicing standards,
procedures and history--demonstrated SolarCity's exemplary asset quality.
About SolarCity
SolarCity(R) (Nasdaq:SCTY) provides clean energy. The company has disrupted
the century-old energy industry by providing renewable electricity directly
to homeowners, businesses and government organizations for less than they
spend on utility bills. SolarCity gives customers control of their energy
costs to protect them from rising rates. The company offers solar power,
energy efficiency and electric vehicle services, and makes clean energy easy
by taking care of everything from design and permitting to monitoring and
maintenance.
SolarCity currently serves 14 states and signs a new customer every five
minutes. Visit the company online at www.solarcity.com and follow the
company on Facebook & Twitter.
Featured Product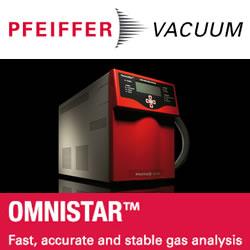 The Pfeiffer Vacuum OmniStar benchtop analysis system offers you a compact footprint, powerful software and Ethernet connectivity. It's the optimum solution for many real-time gas analysis applications. With the OmniStar, Pfeiffer Vacuum offers you a complete solution for gas analysis, in chemical processes, semiconductor industry, metallurgy, fermentation, catalysis, laser technology and environmental analysis. The turnkey OmniStar gas analysis system consists of heated, temperature-regulated gas inlet system, Quadrupole mass spectrometer, a dry diaphragm vacuum pump and HiPace turbopump. Unlike competing methods such as FTIR, OmniStar is suitable for qualitative and quantitative analysis of most gases.