Swiss chemist Michael Grätzel, to whom we owe the discovery of a new simpler and less expensive silicon cells that can be used to produce solar cell, won the first prize "Leigh Ann Conn" dedicated to renewable energies assigned by the University of Louisville.
Professor and Director of the Laboratory of Photonics and Interfaces of Lausanne's Ecole Polytechnique Fédérale, Michael Grätzel is known to have led to the convergence of nanoscience and photo-conversion by developing a pigmented solar cell photosensitive called Grätzel cell.

Those cells convert sunlight into electricity using an abundant material on Earth and offer efficiency close to thin silicium's film cells efficiency for a cost of production much lower. Mass production of these cells began in 2009.
Michael Grätzel, one of the most cited chemists in the world, holds more than 50 patents and has authored two books and over 1,200 articles. His concepts are causing hundreds of research groups and numerous conferences. Next spring, he will travel to Louisville to perform a public lecture on his award-winning work and receive the Conn award along with a $50,000 prize, which rewards his outstanding advances and ideas in renewable energy that have a proven global impact.
"Michael Grätzel is the person who knows best the world make use of the most cost-effective solar energy, achievable and affordable. We appreciate his research and are proud to announce he is the first winner of Leigh Ann Conn" said James Ramsey, president of the University of Louisville, responsible for awarding the prize.
Managed by the Conn Center for Renewable Energy Research at the University of Louisville, the award is named for the late daughter of Hank and Rebecca Conn, donors and benefactors of the research center at the origin of the price.
"Rewarding innovations such a high level in the field of renewable energy is a wonderful way to pay tribute to Leigh Ann" said Hank Conn. "We are delighted that winning is a proven scientific approach to practical applications. The choice of Michael Grätzel echoes the work of Conn Center and comes to embody all that we have tried to achieve these past five years. Our daughter would be proud."
Nominations for the 2014 award will be accepted from January 1 to June 1.
Written by Greenshine New Energy, solar outdoor lights: street lights, parking lot lights, and more
Featured Product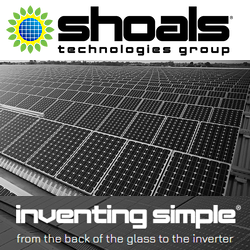 Inventing Simple® isn't just a slogan to us, it's a way of life. Using simple plug-and-play ideology, we revolutionized solar installations in 2003 with our Interconnect Systemâ"¢. Our harnessing system is now the gold standard EPC's use around the world. By using simple ideas, we are making solar energy a more affordable and clean power source for future generations.