SGS successfully attended the sixth annual International Trade Fair and Conferences for Renewable Energy and Energy Efficiency (RENEXPO) in Bucharest, Romania and showcased its comprehensive portfolio of renewable energy services.
From 20-22 November, 2013, the sixth annual International Trade Fair and Conferences for Renewable Energy and Energy Efficiency RENEXPO® SOUTH-EAST EUROPE was held at the EXPOROM, Pantelimon – Bucharest/Ilfov in Bucharest, once again demonstrating the importance of renewable energy in Eastern Europe. Making its first appearance at the event, SGS attended the conferences and gave a presentation in the wind segment of the discussions.

RENEXPO® SOUTH-EAST EUROPE
The 6,000 m² exhibition area provided representatives from 131 companies from Romania and abroad adequate space for introducing products and services for the renewable energy (link to: http://www.sgs.com/en/Energy/Energy-Sources.aspx) and energy efficiency sectors. Exhibitors from 15 countries in Europe and Asia welcomed more than 3,000 visitors during the 3 days of the fair and parallel conferences addressing renewable energy topics such as wind, solar, biomass, biogas, hydropower, cogeneration, energy efficiency for buildings, electricity and power grid.
International companies from Germany, Greece, Italy, China and many more countries were present at the event. Mr. Radu Ion, Councilor Minister for Water, Forests and Fisheries, Mr. Nicolae Matei, President of the Romanian Cities Association, Mrs. Brigitte Eble, Vice Chairman AHK, and Mr. Johan-Georg Röhm, Chief Executive Officer REECO were among officials present for the opening ceremony. The conferences and forums, running parallel to the trade fair, offered major players in renewable energy a unique opportunity to come together and exchange knowledge and practical experience and discuss the latest progress in technological research and development as well as EU and local legislation issues.
During the three days of conferences, presentations on new innovation theories and technologies were given. World-class speakers from economics and research were on hand to address the challenges within the renewable energy sector and highlight practical experience. Once again, the conferences were an important international meeting place for decision makers and field experts.
SGS at RENEXPO in Romania
SGS attended this event with a stand located in the area HA-G5 and a presentation in the conference on wind energy. The only certification, inspection and verification body to be present with a stand at the event, an expert SGS team made up of Mr. Dan Doru Marinescu- Managing Director, Mr. Eduard Pescaru- Business Manager Industrial Services, Mr. Nicu Andrei- Business Coordinator- Construction Unit and Mrs. Mihaela Sarbu- Business Development Manager Industrial Services hosted guests at the SGS space, giving visitors professional and competent information and insight into the comprehensive SGS service portfolio in renewable energy as well as the worldwide SGS reputation of excellence. RENEXPO® SOUTH-EAST EUROPE provided SGS Romania the unique opportunity to showcase its services, competences and experience in renewable energy and to directly communicate with fair visitors and conference participants.
Mihaela Sarbu addressed a popular topic of interest in her presentation entitled "Risk Management During the Life Cycle of a Wind Farm Project" on the first day of the Wind Energy Conference. The presentation aimed to introduce the risk management process approach and its crucial role in attending to project objectives in terms of performance, quality, scheduling, costs and HSE targets. SGS services relevant to the entire life cycle of a wind farm available in Romania include, but are not limited to, technical and environmental due diligence, project management, construction supervision, pre-and final commissioning tests and health and safety coordination carried out in accordance to national regulations such as the Government Decision 300/2006. In addition, SGS services in Romania encompass the operation and maintenance phase with specific in-service and end of warranty inspections as well as final decommissioning, dismantling and disposal.
During her presentation, Mrs. Sarbu highlighted SGS services associated with each project development phase, supported with relevant examples from SGS projects worldwide. With over 50 years of experience in providing comprehensive testing, analysis and risk management, superior SGS services conducted by skilled SGS professionals have a significantly positive impact on productivity. Experts at the SGS Risk Competence Center ensure that SGS services exceed required compliance standards of any country in which a project is undertaken or an asset is operated.
The Wind Energy Conference audience, comprised of representatives from banks, insurance companies, developers, EPC and supply chain manufacturers, appreciated the informative presentation about this current topic of interest.
SGS Risk Management Services
Effective risk management (link to: http://www.sgs.com/en/Energy/Quality-Health-Safety-and-Environment/Risk-Assessment-and-Management.aspx) is vital in every phase in order to ensure the success of any and every project. SGS offers a comprehensive range of risk management and assessment services that can help take a structured approach to managing risk at every stage of any project.
Congratulations to the SGS Romania team for a successful performance at the 2013 RENEXPO® SOUTH-EAST EUROPE Fair and Conferences.
For further information, please contact:
SGS Industrial Services
Mihaela Sarbu
Diplom Engineer
SGS Romania SA
4 Bucharest, 38 Calea Serban Voda 040212
t: +4021 3354683
f: +40213354620
E-mail: industrial.pr@sgs.com
www.sgs.com/renewables
SGS is the world's leading inspection, verification, testing and certification company. SGS is recognized as the global benchmark for quality and integrity. With more than 75 000 employees, SGS operates a network of over 1 500 offices and laboratories around the world.
Featured Product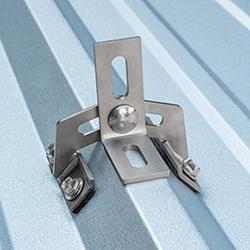 QuickBOLT Low Profile QuickBOLT with Microflashingâ"¢ is the industry's affordable, UL Certified Asphalt Shingle mounting system. The Microflashingâ"¢ is compressed by the collar on the bolt to create a water-tight seal. With an installation time of less than one minute, the Low Profile QuickBOLT allows installers to complete more jobs.