Come to Storage Week and hear the information you'll need to be part of this exciting space.
Woodland Hills, CA December 11, 2013

Infocast, the leading business intelligence and networking events producer, has announced the 7th Annual Storage Week scheduled on February 11–13, 2014 and will take place in Santa Clara, CA.
FERC's recent issuance of Order No. 792 amends interconnection rules to specifically include storage devices in the pro forma Small Generator Interconnection Procedures (SGIP) and Small Generator Interconnection Agreement (SGIA). This opens the way for storage to be added to utility systems through the SGIP or Fast Track Process either as a standalone asset or as a part of a system including distributed generation such as solar. How will this rule affect utility procurement plans? How are leading solar providers incorporating storage in their plans?
At the 7th Annual Storage Week, you will hear from former FERC Chairman Jon Wellinghoff, the leaders of storage integration efforts at AEP, Duke, ITC Holdings, PG&E, PGE, and SDG&E, and key executives from major solar developers SolarCity and Sunverge Energy the roles storage will play in the future. You will get an unparalleled opportunity to meet with the policy-makers, regulators, utility and renewable energy executives who will form the cornerstone of storage deployment across the nation. The road to bankable revenue flows is opening—come to the 7th Annual Storage Week to position your company to move from pilot projects to full scale deployment.
For more information, to register, or to join us as a sponsor, visit the event website at infocastinc.com/storageweek14 or contact Infocast at 818-888-4444.
About Infocast
For over 25 years, Infocast has produced the highest quality events, tailored to the needs of the industries we serve. We intensively research the marketplace, pulling from an extensive network of experts to give you the information and connections to succeed.
Featured Product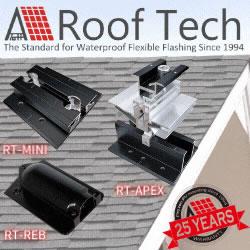 These ongoing webinars cover Roof Tech's background, product design (RT MINI and APEX), code and best practices. You will learn about a proven system that reduces installation time while keeping the integrity of the roofing system. This training will earn you one NABCEP Continuing Education Credit. The webinars are offered every Tuesday from 11 AM PDT to Noon during the months of April and May, 2020.