Grupo T-Solar already operates 254 MW in Spain, Italy, India, Peru and USA, and prepares the construction of a new 30 MW plant in Puerto Rico
El Centro, California, December 11, 2013 - Grupo T-Solar, one of the major independent power producers of photovoltaic solar energy based in Spain, completed successfully its first photovoltaic solar plant in El Centro, California.

The plant, located in the municipality of Centro (Imperial Valley, California), ocuppies 140 acres of land and will produce 55 GWh per year, equal to an energy consumption of more than 12,000 inhabitants. The sale of energy is regulated by a 30-year Power Purchase Agreement (PPA) with the company IID (Imperial Irrigation District).
"USA is one of the target markets for the growth of Grupo T-Solar and a key part of our long term business strategy", said Marta Martinez, CEO of Grupo T-Solar.
The project in El Centro has required an investment of over 75 million dollars (more than 55 million euros) and has been financed and supported by the international financial institutions, North American Development Bank, as senior lender; Santander Bank NA, a subsidiary of Banco Santander, as Tax Equity Investor; Astris Finance, a financial advisory firm specializing in energy and infrastructure structured finance in the Americas, acted as financial advisor; and CCA Group, a FINRA-registered broker-dealer specializing in renewable energy, acted as advisor for the tax equity component.
"We are very grateful and proud to cooperate with the City of El Centro in a joint effort to preserve and enhance environmental conditions and quality of life for people living in Imperial County", said Marta Martínez.
The new solar plant is located in an area considered as priority by US and Mexican Governments in its effort to preserve and improve the environmental conditions and the quality of life of the people who live on the border between the two countries.
According to the company strategy in the US market Grupo T-Solar has just been awarded with MATOC (Multiple Award Task Order Contracts) by the Department of Defense program. The program has a budget of $7 Billion with the goal of installing 3,000 MW of renewable energy in the facilities of the U.S. Army until 2025.
This program has a budget of $ 7 billion with the objective to install 3.000 MW of renewable energy in the facilities of the army until 2025. The first projects will be decided at the beginning of 2014.
Grupo T-Solar is also planning, the construction of a new 30 MW solar plant in Puerto Rico.
Featured Product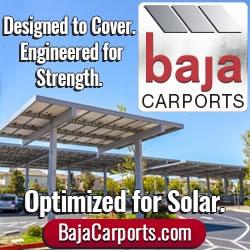 Baja Carports offers an extensive solar support system product line customized to customers' site specifications by in-house engineers, meeting their parking lot coverage, plus optimal PV production needs. Baja's Full Cantilever Tee is often paired with its Semi and Full Cantilever carports to meet live/loads up to 60psf and wind speeds to 160mph. All Baja products are pre-fabricated, bolted connections, pre-galvanized structural steel for fast on-site installation and project aesthetic requirements."