To provide enhanced sales, technical and commercial supports to the customers in Latin America.
SANTIAGO, Chile, Dec.16, 2013 -- ET Solar Group Corp. ("ET Solar"), a leading solar one-stop solution provider, today announced the opening of its regional sales and business development office in Santiago, Chile, to provide enhanced sales, technical and commercial supports to the customers in Latin America.

Having commenced business development a few years ago in Latin America, ET Solar has cemented cooperative partnerships with various local PV players, preparing itself for further inroads into the burgeoning market.
With the establishment of this regional office, ET Solar will be working closely with the growing number of in-country distributors and developers, offering photovoltaic modules and a suite of project development services for MW-grade solar power plants. These services include initial project development, design, planning, engineering, procurement, construction, project financing, operation and maintenance.
"Latin America is a great solar market and we are seeing growing demand for renewable energy here. Expanding our footprint into Latin America shows our commitment to the region and its strategic importance in our overall growth roadmap. We are excited to strengthen our relationship with local distributors and developers. With this new office, we're able to response to the clients' needs quickly and deliver 100% clean and affordable energy solutions across the region," said Mr. Dennis She, President and CEO of ET Solar.
About ET Solar
ET Solar is one of the globally leading solar one-stop solution providers. With local sales and marketing subsidiaries and offices in Asia, Europe, South America and North America, ET Solar has provided solar modules, turnkey solutions services and PV balance of system components to its customers in over 50 countries. To learn more about ET Solar, please visit http://www.etsolar.com.
Featured Product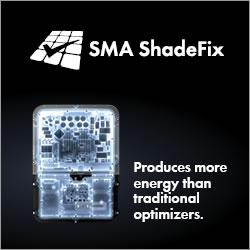 A recent university study showed SMA ShadeFix optimization produces more energy than traditional optimizers. It also utilizes far fewer components, reducing the need for costly service visits. Systems with ShadeFix optimization and SunSpec certified shutdown devices are the ideal solution for residential and commercial PV systems. Visit SMA's website to learn more and download the whitepaper.