Rebrand reflects growing clean energy solutions provider's expansion of services and new geographic market opportunities.
Honolulu, HI January 13, 2014

Baylor Solar Energy, a Honolulu based clean energy solutions provider announced today that it has rebranded as Equal Earth. The timing of the rebranding coincides with the company's recent expansion of its service offerings including off-grid solar, battery backup systems and LED lighting. Equal Earth also just opened for business in two of the strongest renewable energy markets in California and Colorado with additional markets to be added as the year progresses. The growth of the company required a brand name reflective of its new market position.
"The new name more fully encompasses the wide array of clean energy products and services that are offered by Equal Earth," stated Equal Earth Chairman, President and CEO Andrew Duggan. "As we continue to expand our business in line with our mission to provide quality, cost effective clean energy solutions to our customers, we felt that we needed a brand name that strongly defined our identity," added Duggan.
Equal Earth provides homeowners and business owners with an easier and more cost effective energy solution. Customers are able to have a clean energy system installed with no out-of-pocket costs to them. Instead of purchasing the system upfront, customers simply make monthly payments that are significantly less than what they are paying right now.
About Equal Earth
Equal Earth is the premier clean energy solutions provider servicing commercial and residential customers in California, Colorado and Hawaii. Our mission is to provide homeowners and business owners with an easy, straightforward alternative to the expensive utility rates they currently pay. Our customers enjoy a fast, simple and streamlined approach to both grid-tied and off-grid solar systems, LED lighting conversions and saving money without the burden of any upfront costs. For more information, visit http://www.EqualEarthCorp.com.
Featured Product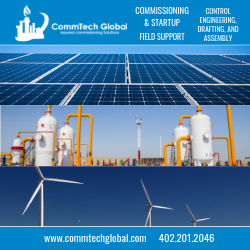 CommTech Global Solutions, LLC, provides professional and reliable commissioning services to customers in all realms of the energy industry. We blend our skills in engineering and technology with innovative business models, offering a complete range of services to assist you for a successful and in compliance operational startup. Consolidation of all our service domains gives our clients a comprehensive set of expertise and far-reaching experience on each project.