182 MW project is latest in series of major financings by Milbank for large U.S. renewable energy providers
LOS ANGELES (January 13, 2014) – In its latest large project financing in the U.S. renewable energy sector, Milbank, Tweed, Hadley & McCloy LLP has represented Morgan Stanley as the debt provider to finance construction of a major new wind farm under development in Carson County, near Amarillo, Texas.

The 182 MW Panhandle 2 Wind Project, which Pattern Energy Group, Inc. (NASDAQ: PEGI) (TSX: PEG) ("Pattern Energy") has agreed to acquire from its majority shareholder, Pattern Energy Group LP ("Pattern Development), will be part of Texas's new Competitive Renewable Energy Zone. Expected to be operational in the fourth quarter of 2014, the Panhandle 2 facility will connect to the state's main power grid, generating wind power from 79 Siemens 2.3 MW SWT-2.3-108 wind turbine generators.
Morgan Stanley is providing a construction loan facility and equity bridge loan facility along with a letter of credit. Pattern Energy, together with three institutional tax equity investors, will acquire Panhandle 2 upon completion of construction. Morgan Stanley Capital Group Inc. is providing an energy hedge, which offers greater certainty for the project's projected cash flows from wholesale power sales; Morgan Stanley Capital Group is also acting as the Collateral Agent for the senior secured creditors. Milbank represented Morgan Stanley Bank, N.A., both as the Construction Lender and as Letter of Credit Issuer, and Morgan Stanley Senior Funding, Inc., as the Administrative Agent and as Equity Bridge Lender.
Milbank project finance partner Allan Marks led the deal team on behalf of the lenders. Mr. Marks said, "By creatively bringing together multiple financing techniques into a single package – including construction loans, equity bridge loans, and an energy hedge from Morgan Stanley; tax equity from three different sophisticated investors; and strategic equity from Pattern Energy – the project will bring online clean, renewable power at a favorable cost of capital and with an efficient allocation of risks, benefitting all stakeholders."
Also working on the transaction were Milbank project finance associates Marco McClees, Deana Brown, Lily Rasel, and Hao Huang, with additional assistance from Drew Batkin (tax), Matthew Ahrens (environmental), Jim Liles (regulatory), and Nicole Doppelt (hedges).
Mr. Marks previously represented a group of international banks as construction lenders and back-levered lenders in financing Phase 1 of the Panhandle Wind Project, which closed earlier this year. He has advised lenders, sponsors and other key players in a number of large renewable energy deals in the United States and Latin America. His other recent matters include wind and solar energy projects in Latin America and Europe that closed financing in the second half of 2013; the 265 MW Ocotillo wind project in Southern California; Vivint Solar's tax equity funding for a multi-state portfolio of over 2,700 residential solar projects; the Kahuku wind farm in Hawaii (with federal loans guaranteed by the U.S. Department of Energy); and the 115 MW El ArrayŠn project, Chile's largest wind farm.
About Milbank
Milbank, Tweed, Hadley & McCloy is a leading international law firm that has been providing innovative legal solutions to clients throughout the world for more than 145 years. Milbank is headquartered in New York and has offices in Beijing, Frankfurt, Hong Kong, London, Los Angeles, Munich, S"o Paulo, Singapore, Tokyo and Washington, DC. The Firm's lawyers provide a full range of legal services to the world's leading commercial, financial and industrial enterprises, as well as to institutions, individuals and governments. Milbank's lawyers meet the needs of its clients by offering a highly integrated and collaborative range of services across key practice groups throughout its global network. Milbank's integrated practice is underpinned by its attorneys' acknowledged technical excellence, sectorial expertise and a strong tradition of innovation and client service.
To learn more about Milbank and its attorneys, please visit www.milbank.com.
Further information on Milbank is available at www.milbank.com/news.
Featured Product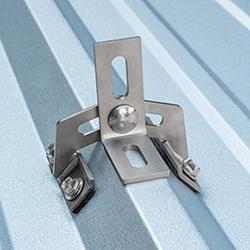 They have been changing the game for 10 years with their original Top Mount line for Asphalt Shingle roofs, and by now supplying one of the widest ranges of solar mounts in North America. From their patented products, to the custom production services they offer, QuickBOLT has been working with solar installers for nearly a decade to make solar installations easier than ever before.