Bill Supports Continued R&D in Marine and Hydrokinetic Renewable Energy Sector
The 2014 omnibus appropriations bill was passed by the Senate (72-26) last week after the House had previously approved it (359-67) earlier in the week. The spending bill was signed by President Obama on Friday, January 17, 2014, just a day before federal funding was set to expire under the short-term Continuing Resolution.

The $1.1 trillion Omnibus (almost 1,600 pages) covers all 12 FY2014 appropriations bills, avoids a government shutdown, and provides relief from automatic recisions.
"This Omnibus Appropriations Bill will support the progress we've made in recent years in marine and hydrokinetic technologies." said Sean O'Neill, OREC's president. "This Bill also provides much needed Congressional guidance on priorities for ocean renewable energy and its role in national security, environmental progress, reliance on foreign fossil fuel supplies, economic development and job creation."
Department of Energy (DOE) FY14 Omnibus Appropriations - Water Power
Within available funds, the agreement provides $41,300,000 for marine and hydrokinetic technologies. Of the $41,300,000, not less than $20,000,000 is for competitive demonstrations of marine and hydrokinetic technologies, which may be in conjunction with activities at the National Marine Renewable Energy Centers.
The legislation also directs the DOE to work with the U.S Navy on joint usage of test facilities, coordinate with the Federal Energy Regulatory Commission, the Bureau of Ocean Energy Management, the National Oceanic and Atmospheric Administration, other relevant agencies and industry to reduce the amount of time to permit MHK test and demonstration projects, and recommends that the Water Power Program, work with the Fossil Energy Program to demonstrate the ability of marine and hydrokinetic technologies to reduce emissions and improve energy efficiency related to offshore oil and gas production.
MHK technologies, including wave, current and tidal technologies have demonstrated continued progress and promise to deliver clean, affordable and domestic energy to the U.S. grid and the potential to export marine and hydrokinetic renewable energy technologies in the growing world market.
Featured Product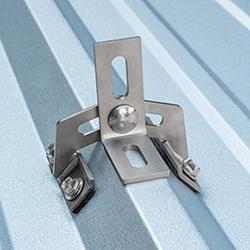 They have been changing the game for 10 years with their original Top Mount line for Asphalt Shingle roofs, and by now supplying one of the widest ranges of solar mounts in North America. From their patented products, to the custom production services they offer, QuickBOLT has been working with solar installers for nearly a decade to make solar installations easier than ever before.