A Green Product for a Green Application
HIGHLAND HEIGHTS, KENTUCKY, February 4, 2014 – General Cable (NYSE: BGC) is pleased to announce the availability of its EmPowr® Link CL™ Advantage Cable, the next step in medium-voltage technology to deliver industry-leading reliability and performance for solar and wind energy collection systems.

General Cable's EmPowr Link CL Advantage Cable offers superior physical protection to endure the rigors of today's collection system installation methods. This cost-effective cable solution is built upon widely accepted electrical advancements of Cross-linked Polyethylene (XLPE) jacketing, and optimized neutral designs to provide a compact, lightweight cable delivering more Advantage than ever before.
Rather than conventional round concentric neutral wires, industry-proven flat strap neutrals encapsulated under the EmPowr Link CL Advantage Cable's XLPE jacket provide better mechanical protection for the insulated core to withstand the pressures of automated cable handling equipment and an armor-like force to resist potential underground damages. This minimizes the risk of expensive repairs while enhancing profitability.
"EmPowr Link CL Advantage Cable is more durable and easier to install than its CL predecessor making it the new standard for today's renewable energy collection systems," said Joe DeBolt, Director of Renewable Energy, General Cable Electric Utility Products. "The combination of a compact phase conductor and flat strap neutrals creates a lighter weight cable with an overall smaller diameter that allows for longer lengths with highly efficient fault current protection."
Through extensive testing, the EmPowr Link CL Advantage Cable has been proven to provide the equivalent physical properties, coefficient of friction and easy installation characteristics of our traditional EmPowr Link CL XLPE jacket construction, while offering enhanced ruggedized installation protection, reduced weight and diameter, and highly efficient fault current protection. With these built-in benefits, lead-free compounds and General Cable's recyclable reels, CL Advantage is also a total green solution.
"Every purchase of EmPowr Link CL Advantage medium-voltage cable is supplied with test data ensuring that you get the reliability and performance that you have come to expect from General Cable," added Debolt. "And, we offer you a green product solution for your green application."
General Cable (NYSE: BGC), a Fortune 500 Company headquartered in Highland Heights, Kentucky U.S.A., is a global leader in the development, design, manufacture, marketing and distribution of aluminum, copper and fiber optic wire and cable products for the energy, construction, industrial, specialty and communications markets. It operates 57 manufacturing facilities in 26 countries and employs more than 14,000 associates. Visit our Web site at www.GeneralCable.com.
Featured Product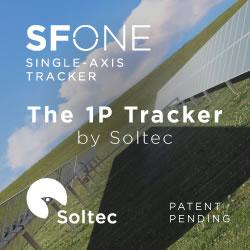 Soltec manufactures and supplies solar trackers designed and proven for extreme climate conditions, which is an ideal solution for any region's environment. Soltec's trackers are self-powered, requiring no additional PV module or grid-powered connection. Bifacial modules collect energy on both the front and rear sides, capturing reflected irradiance from the ground surface under and around the tracker and from other modules. Depending on site conditions, bifacial yield-gain can reach +30 percent.