In the past nine months 19 schools across England have been fitted with PV installations by Engynious, with several more scheduled for grid connection in the coming months.
Watford/UK, Munich/Germany, 13th February 2014 – The Scandinavian-German panel manufacturer Innotech Solar (ITS) has supplied more than 1.400 photovoltaic modules with a total output of 360 kilowatts peak (kWp) to schools in England. All installations were planned and built by Engynious Clean Power UK, a company specialising in developing solar power plants in the UK.

In the past nine months 19 schools across England have been fitted with PV installations by Engynious, with several more scheduled for grid connection in the coming months. Engynious is using ITS modules because they have very good environmental credentials with a 50 percent lower carbon footprint than conventional products. Schools with these innovative solar modules include Pedmore Technology College and Community School in the West Midlands, where a 50 kWp system has been installed, and the Strawberry Hill Day Nursery in the Sutton Hull Children's Centre, Shropshire which has a 22.5 kWp system. All the systems are operational generating clean solar power which the schools are able to buy at a discounted price giving them long-term energy cost savings.
"The ITS technology fits with our mission to offer schools a sustainable option for generating renewable energy," says Ann Flaherty, UK Solar Programme Manager of Engynious Clean Power (UK) Limited which develops, operates and maintains the PV systems on the schools' roofs.
Innotech Solar's high performance modules are made with solar cells which have been optimized using a unique, laser-based process to enhance their performance. This innovative production technology cuts the carbon footprint of ITS modules considerably when compared with conventional modules. The production process only uses renewable energy, which also boosts the environmental credentials of these panels.
"We are delighted to cooperate with such an experienced partner like Engynious and we are happy to be able to support these excellent projects, where young people will also get to see PV systems in operation," states Jerry Stokes, CEO of Innotech Solar.
Besides schools, Engynious Clean Power plans to extend its operations in the UK into other segments. "Due to the great success of our school projects, we now have plans to also serve the commercial and agricultural segments to build up a substantial photovoltaic rooftop portfolio in the UK," says Gregor Loukidis, Director of Engynious Clean Power UK.
Engynious Group - Ingenious Energy Solutions
Established in 2001, Engynious delivers leading solutions for the generation and use of solar energy to meet distributed power requirements. The company bases its solutions on sound commercial and extensive technical competence. Through continuous work on technology enhancements and innovative business models, Engynious makes renewables a viable alternative for the sustainable long-term supply and use of energy.
www.engynious.com/en/
Innotech Solar
The Scandinavian-German company manufactures solar modules in Europe and sells them worldwide. Innotech Solar specializes in the production of particularly environmentally friendly modules with optimized solar cells and uses innovative processes developed by in-house research teams to do so.
Innotech Solar optimizes solar cells in Halle an der Saale and manufactures its modules in Glava, Sweden, which thanks to its fully automated production lines is one of Europe's most modern manufacturing plants.
www.innotechsolar.com
Featured Product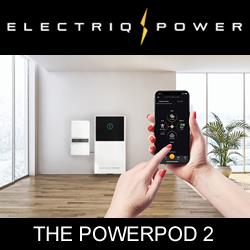 The Electriq PowerPod 2 is a fully-integrated home energy storage, management, and monitoring system powered by LFP batteries. The high-performance, cobalt-free product includes a hybrid solar/battery inverter controlled by intelligent software. The PowerPod 2 provides backup power and can self-consume or export excess power back to the grid.