Lowering the Cost of Solar PV
PV America East 2014

NORTH ANDOVER, Mass.--In another move to drive down the costs of solar PV, PanelClaw introduces Polar Bear® III, its new flat roof mounting system. The new Polar Bear product takes the best aspects of PanelClaw's existing Polar Bear®, Grizzly Bear® and Kodiak Bear® flat roof portfolio and combines them into a single platform with more competitive pricing.
Starting today, PanelClaw will accept orders for the new Polar Bear product for projects in North America and will demonstrate the system at PV America East 2014 (Booth 315).
"Polar Bear III provides a pathway to more market opportunities for our partners and ensures rapid growth of the whole industry," says Constantino Nicolaou, CEO of PanelClaw. "PanelClaw's commitment to lowering the cost of solar is relentless. Lowering the cost of racking without sacrificing safety and reliability is a challenging endeavor. PanelClaw is the best solar mounting company in the world at fulfilling this essential requirement."
Executive Vice President of Services and Sales Zach Ward notes the release of the new Polar Bear product provides customers with the construction speed and flexibility required to lower costs at every stage of a project's lifecycle, setting PanelClaw apart from its competitors.
Key Product Features
Roof Integrity
*Integrated roof protection pads
*Captured ballast
*Free water flow
*Thermal compensation
Accelerated Construction
*Easy handling
*Pre-assembled bolts
*Dense packaging
*Built-in wire management pathways
Safety and Reliability
*Industry-first 25 year warranty
*Advanced seismic behavior analysis
*Boundary layer wind tunnel testing
*UL 2703 for grounding and bonding
Using 400 MW of amassed project experience to design this next product evolution, Polar Bear III provides developers and installers with the same quality and permitting success they have come to expect from PanelClaw. "We needed a solution that meets the same high-quality and service advantages that PanelClaw is known for, but at a more competitive price," said Colleen Ayres, Marketing Director, PanelClaw. "Polar Bear III captures the extensive engineering experience of all PanelClaw's roof top products and delivers it through our same valued PanelClaw Advantage A-to-Z service model."
About PanelClaw, Inc.
Headquartered in Massachusetts, PanelClaw delivers PV power plant mounting structures and engineering services to accelerate the adoption of solar electricity across North America. PanelClaw remains at the forefront of the solar industry as a leading supplier of flat roof and ground mount systems, setting new standards for safety and reliability of photovoltaic arrays. For more information please visit www.panelclaw.com.
Featured Product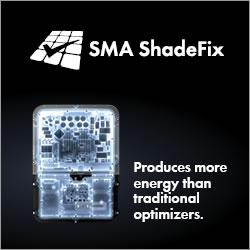 A recent university study showed SMA ShadeFix optimization produces more energy than traditional optimizers. It also utilizes far fewer components, reducing the need for costly service visits. Systems with ShadeFix optimization and SunSpec certified shutdown devices are the ideal solution for residential and commercial PV systems. Visit SMA's website to learn more and download the whitepaper.