Ideal Power receives initial production orders from Battery Energy Storage System integrators
AUSTIN, Texas– Ideal Power Inc. (NASDAQ: IPWR), a developer of a disruptive power conversion technology, received initial purchase orders for 20 units of its 30kW battery converter from two Battery Energy Storage System (BESS) integration customers to be installed in commercial storage systems in California. The identities of the system integrators and project details are protected by customer non-disclosure agreements, but Ideal Power expects to make joint announcements on specific customer installations when they are operational. These system integrators are early market leaders in what is anticipated to be a large and rapidly growing market for commercial BESS.

The State of California requires at least 1.3GW of energy storage to be procured by 2020, a part of which will be behind-the-meter commercial installations. The commercial energy storage systems can be used to store energy locally, on site, to help businesses offset peak demand – when their energy use is at its highest during the day – through improved energy management. The systems are designed to release energy during their peak load periods, significantly reducing the demand portion of their monthly utility bills. Peak demand rates from California's investor owned utilities have increased an average of 45 percent over the past five years, and can represent over 50 percent of the monthly utility bill.
"We believe these orders demonstrate the unique advantages and competitiveness of our products when integrated into distributed storage systems to solve the growing industry need to lower commercial demand charges and satisfy the California mandate," said Dan Brdar, Chief Executive Officer of Ideal Power. "We anticipate that the attractive financial return on these systems to commercial building owners will fuel rapid growth, and accelerate the wide adoption of commercial energy storage systems."
Ideal Power's 30kW battery converter offers high efficiency in a compact, modular and an easy-to-install solution that can improve the economics for energy storage applications. It is based on the company's patented Power Packet Switching Architecture™ (PPSA) that provides electrical isolation without the use of a bulky and expensive transformer. Among the many benefits of PPSA is the unique capability to reduce the size, cost, and efficiency loss associated with conventional systems.
About Ideal Power Inc.
Ideal Power Inc. (NASDAQ: IPWR) has developed a novel, patented power conversion technology called Power Packet Switching Architecture™ (PPSA). PPSA improves the size, cost, efficiency, flexibility and reliability of electronic power converters. PPSA can scale across several large and growing markets, including commercial grid storage, electric vehicle charging, and solar photovoltaic generation. Ideal Power also has a capital-efficient business model that can enable it to address these markets simultaneously. Ideal Power has won multiple grants for its PPSA technology, including a $2.5 million grant from the Department of Energy's Advanced Research Projects Agency - Energy (ARPA-E) program, and market-leading customers are incorporating PPSA as a key component of their systems. For more information, visit www.IdealPower.com.
Safe Harbor Statement
All statements in this release that are not based on historical fact are "forward looking statements" within the meaning of the Private Securities Litigation Reform Act of 1995 and the provisions of Section 27A of the Securities Act of 1933, as amended, and Section 21E of the Securities Exchange Act of 1934, as amended. While management has based any forward looking statements included in this release on its current expectations, the information on which such expectations were based may change. These forward looking statements rely on a number of assumptions concerning future events and are subject to a number of risks, uncertainties and other factors, many of which are outside of our control that could cause actual results to materially differ from such statements. Such risks, uncertainties, and other factors include, but are not limited to, whether the patents for our technology provide adequate protection and whether we can be successful in maintaining, enforcing and defending our patents, whether demand for our products, which we believe are disruptive, will develop and whether we can compete successfully with other manufacturers and suppliers of energy conversion products, both now and in the future, as new products are developed and marketed. Furthermore, we operate in a highly competitive and rapidly changing environment where new and unanticipated risks may arise. Accordingly, investors should not place any reliance on forward-looking statements as a prediction of actual results. We disclaim any intention to, and undertake no obligation to, update or revise forward-looking statements.
xxx
Featured Product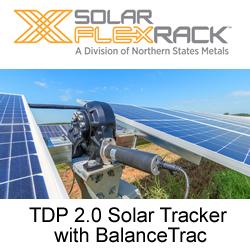 Solar FlexRack's latest solar tracker technology bundles an advanced tracker design with a full team of seasoned engineering and installation experts at your service. The next-generation solar tracker delivers a package of features that both enable increased energy yields for commercial and utility-scale solar installations, and significantly reduce project risks. That translates to smart installation cost-savings across your project budget.