Portland Timbers join top-ranked program as latest business to go green
PORTLAND, Ore. — At 102,320 renewables customers and growing, more Portland

General Electric (NYSE: POR) customers have chosen renewable energy than have the customers of
any other electric utility in the United States. From the first pioneers who signed up for PGE's
voluntary renewable power programs in January of 2000 to the more than 100,000 strong
community today, these PGE customers reflect the Northwest's ongoing leadership in sustainable
choices.
U.S. Department of Energy's National Renewable Energy Laboratory has ranked PGE's
program No. 1 in the nation since 2009, for the number of customers participating, and since 2003
based on the amount of renewable power sold to residential customers, and, as of 2013, PGE ranked
first in the nation for the total amount of renewable power sold to residential and commercial
customers.
"Our customers are the heart of this program," said Carol Dillin, PGE's vice president for
customer strategies and business development. "Their voluntary commitment to doing more to be
sustainable inspires all of us at PGE to keep raising the bar in the renewables programs we offer."
Now the Portland Timbers have joined the team. The soccer club is purchasing 100 percent
Clean WindSM power from PGE to offset all of its home field electricity use. "The Portland Timbers
are pleased to be part of the Clean Wind power program, which strongly aligns with our
longstanding commitment to being a leader in green initiatives and corporate sustainability," said
Todd Spear, vice president of corporate partnerships for the Timbers. "The club has a strong
commitment to supporting and standing by our community, both on and off the field. The Clean
Wind program reflects this mission, and our fans' values."
"Congratulations to PGE and its customers for exceeding this milestone with their
outstanding voluntary renewable power programs," said Rachel Shimshak, executive director of
Renewable Northwest, a regional renewable advocacy organization. "Customers are showing that
they want more renewable power, and with their actions, they are helping lead the region toward a
clean energy future."
Buying renewable energy from PGE is easy and affordable. All PGE residential and business
customers have clean, renewable sources of energy as part of their base power mix, but with plans
starting as low as $2.50 per month, PGE's renewable power options offer customers the opportunity
to increase their percentage of renewable power in a way that best fits their values and budget. A
typical PGE residential customer purchasing100 percent renewable power pays a premium of about
$6 per month. For an additional donation of $2.50 per month, customers can add Habitat Support.
The proceeds go directly towards local projects to restore fish habitat, as administered by PGE's
non-profit partner, The Nature Conservancy.
Go green and win! Customers who sign up for a PGE renewable power option by May 15,
2014, will be entered for the chance to win an ultimate Timbers fan experience:
* Four club seats for the Aug. 9 game
* Four pre-game on-field hospitality tickets
* Four Timbers scarves
* One autographed team jersey
No purchase necessary to enter. Visit PortlandGeneral.com/ Timbers for details and signup
information.
For more information about PGE's renewable power programs, visit
PortlandGeneral.com/Renewable.
About Portland General Electric Company: Portland General Electric, headquartered in Portland, Ore., is a vertically
integrated utility that serves approximately 836,000 residential, commercial and industrial customers in Oregon. Visit
our website at PortlandGeneral.com.
Featured Product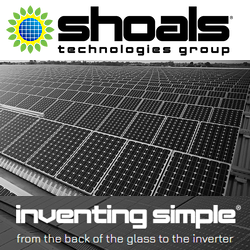 Inventing Simple® isn't just a slogan to us, it's a way of life. Using simple plug-and-play ideology, we revolutionized solar installations in 2003 with our Interconnect Systemâ"¢. Our harnessing system is now the gold standard EPC's use around the world. By using simple ideas, we are making solar energy a more affordable and clean power source for future generations.