Strong U.S. Orders Backlog Positions GE for 2014 ----3.9 Gigawatts of U.S. Orders Since PTC Extension on January 1, 2013 ----GE Grows Brilliant Wind Fleet in U.S. with Installations in 2014 and 2015 ----Expands Platform with 2.2-107 and Plant-Level Management Software
LAS VEGAS--Today, GE's (NYSE:GE) renewable energy business announced a cumulative 3.9 gigawatts (GW) of firm and unconditional wind turbine supply orders in the United States since January 1, 2013, the date of the Production Tax Credit extension. Of these orders, 1.1 GW of GE technology was placed into service in 2013. The remaining 2.8 GW will be commissioned or begin construction by the end of 2015.

In May 2013, GE announced it had 1 GW of orders in the U.S. since the January 1, 2013, PTC extension ruling. Today, GE announces that since January 1, 2013, the number of orders contracted has increased to 3.9 GW. GE has expanded its customer base to include developers such as Sumitomo and Starwood Energy, which both will be installing 200-megawatt (MW) projects using GE's 1.7-100 wind turbines. Mesquite Creek Wind, jointly developed by Sumitomo and BNB Renewable Energy, is based near Lamesa, Texas, and Starwood Energy's Stephen Ranch wind farm is located in Borden and Lynn counties, Texas. The 1.7-100 was introduced in 2013 and is part of the GE's brilliant platform.
"We feel confident that, with our strong backlog of orders, we are strongly positioned for 2014 and 2015," said Anne McEntee, president and CEO of GE's renewable energy business. "As we continue to expand our brilliant wind product line, our customers are seeing efficiencies and capabilities greater than ever before in the wind industry. Through these advancements in technology, combined with strong execution and operations expertise, GE is continuing our commitment to our customers' success and investment in the future of renewable energy."
Today, GE also announced the expansion of its brilliant wind platform to include the 2.2-107 wind turbine and wind plant wake management software technology. The 2.2-107 provides a 12 percent increase in capacity factor and a 33 percent increase in power output and is well suited for Brazil's Class II wind regime. Wind plant wake management software improves output at the plant level through turbine-to-turbine communication, harmonizing wind farms of more than 20 turbines to achieve greater output as a single, efficient plant. With the initial applications, customers can expect to see 5 to 10 percent reduced wake loss and improved mechanical loads due to lower wake turbulence.
GE's brilliant wind platform utilizes the Industrial Internet to analyze tens of thousands of data points on a wind farm every second, driving higher output, increasing services productivity and creating new revenue streams for customers.
About GE
GE (NYSE: GE) works on things that matter. The best people and the best technologies taking on the toughest challenges. Finding solutions in energy, health and home, transportation and finance. Building, powering, moving and curing the world. Not just imagining. Doing. GE works. For more information, visit the company's website at www.ge.com.
About GE Power & Water
GE Power & Water provides customers with a broad array of power generation, energy delivery and water process technologies to solve their challenges locally. Power & Water works in all areas of the energy industry including renewable resources such as wind and solar; biogas and alternative fuels; and coal, oil, natural gas and nuclear energy. The business also develops advanced technologies to help solve the world's most complex challenges related to water availability and quality. Power & Water's six business units include Distributed Power, Nuclear Energy, Power Generation Products, Power Generation Services, Renewable Energy and Water & Process Technologies. Headquartered in Schenectady, N.Y., Power & Water is GE's largest industrial business.
Follow GE Power & Water and GE's renewables business on Twitter @GE_PowerWater and @GErenewables.
Featured Product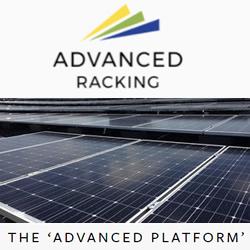 The 'Advanced Platform' simplifies the installation process by using universal mounting hardware that works perfectly across all roof types. Smart roof connection kits then connect to the specific roof's surface. The Advanced Platform is versatile: Our common design can be your single solution for all roof types.