Ballard Power Systems announced that it has signed an agreement with CALSTART, a member-supported organization dedicated to clean transportation alternatives, to deploy a fuel cell hybrid bus in 2015.
VANCOUVER, CANADA–Ballard Power Systems (NASDAQ: BLDP)(TSX: BLD) announced that it has signed an agreement with CALSTART, a member-supported organization dedicated to clean transportation alternatives, to deploy a fuel cell hybrid bus in 2015 at the University of California campus in Irvine, together with partners BAE Systems, ElDorado National and the University of California, Irvine.

Ballard will supply the Company's sixth generation FCvelocity®-HD6 power module, along with Engineering Services support. The 150 kilowatt power module features a control unit which interfaces with a system controller, making it a "plug-and-play" product for any fuel cell or hybrid fuel cell bus platform. The module also offers significant advances in durability, power density and fuel efficiency compared to earlier generation products.
This will be the sixth fuel cell hybrid bus produced based on the American Fuel Cell Bus (AFCB) configuration. The AFCB configuration utilizes Ballard's fuel cell module to provide primary power, in combination with BAE Systems' propulsion and power management systems deployed in an Eldorado National 40-foot (12-meter) transit bus. This bus configuration was first introduced in 2011 with SunLine Transit Agency in Thousand Palms, CA and will be the fourth AFCB bus manufactured at the ElDorado National bus manufacturing facility in Riverside, CA as the team moves away from prototype development to a more commercial production model.
Steve Karaffa, Ballard Chief Commercial Officer said, "We are very pleased to continue our successful AFCB partnership with BAE Systems and ElDorado National and look forward to working with the University of California in Irvine. This bus platform offers transit operators a zero-emission option without compromising bus performance, range or availability."
The project with UC Irvine is funded through the California Energy Commission under its Alternative and Renewable Fuel and Vehicle Technology Program.
About Ballard Power Systems
Ballard Power Systems (TSX: BLD) (NASDAQ: BLDP) provides clean energy fuel cell products enabling optimized power systems for a range of applications. Products deliver incomparable performance, durability and versatility. To learn more about Ballard, please visit www.ballard.com.
This release contains forward-looking statements concerning anticipated market growth drivers, product attributes and corresponding value propositions for our customers. These forward-looking statements reflect Ballard's current expectations as contemplated under section 27A of the Securities Act of 1933, as amended, and Section 21E of the Securities Exchange Act of 1934, as amended. Any such forward-looking statements are based on Ballard's assumptions relating to its financial forecasts and expectations regarding its product development efforts, manufacturing capacity, and market demand.
These statements involve risks and uncertainties that may cause Ballard's actual results to be materially different, including general economic and regulatory changes, detrimental reliance on third parties, successfully achieving our business plans and achieving and sustaining profitability. For a detailed discussion of these and other risk factors that could affect Ballard's future performance, please refer to Ballard's most recent Annual Information Form. Readers should not place undue reliance on Ballard's forward-looking statements and Ballard assumes no obligation to update or release any revisions to these forward looking statements, other than as required under applicable legislation.
This press release does not constitute an offer to sell or the solicitation of an offer to buy securities. The Ballard Common Shares have not been registered under the United States Securities Act of 1933, as amended, or the securities laws of any other jurisdiction and may not be offered or sold in the United States absent registration or an applicable exemption from registration requirements.
Further Information: Guy McAree +1.604.412.7919, media@ballard.com or investors@ballard.com
Featured Product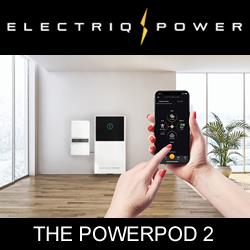 The Electriq PowerPod 2 is a fully-integrated home energy storage, management, and monitoring system powered by LFP batteries. The high-performance, cobalt-free product includes a hybrid solar/battery inverter controlled by intelligent software. The PowerPod 2 provides backup power and can self-consume or export excess power back to the grid.