Sol Inc.'s 21 solar outdoor lighting systems cut costs and promote sustainability for new neighborhood
RICHMOND, Va., May 29, 2014 -- Sol Inc., a global leader in commercial outdoor LED lighting solutions powered by solar, today announced that Premiere Homes LLC (PHL), a leading residential and commercial builder, has installed 21 of Sol's top-of-pole mount commercial solar outdoor lighting systems at PHL's newly completed Randolph West residential neighborhood development near downtown Richmond, Va.

After determining that traditional grid-tied street lighting was prohibitively expensive to install, PHL and the city of Richmond, chose the option of installing commercial solar outdoor lighting as part of its new neighborhood development project in Randolph West. By avoiding the trenching, wiring and electrical work associated with traditional grid-tied street lighting, Sol's systems were able to save the city time, money and the disruptions associated with installing underground wires that are required with traditional grid-tied lights. The efficient installation of the solar lights considerably lessened the traffic, parking and noise impacts on the new neighborhood while also providing a sustainable and efficient lighting solution.
"As we were developing the infrastructure for Randolph West, it soon became clear that grid-tied street lighting would be much less efficient and would add significant time to the project," said Sean Bowers, chief operating officer at PHL. "Once we began to value-engineer possible options, we quickly identified Sol's commercial solar outdoor lighting as the ideal solution. Sol had the best product and they were suited to Richmond's illumination guidelines. It was a win-win for all involved."
Randolph West, located at 1621 Kemper St., within walking distance of downtown Richmond, the Fan District and the historic Maymont and Byrd parks, is a residential neighborhood development containing 70 custom single family homes. Because of its use of solar lighting, the development was selected as a finalist for the Urban Land Institute's Richmond Vision Awards in the "Transportation/Infrastructure" category.
"As demonstrated by the Randolph West project, solar-powered outdoor street lighting brings significant value to our community and helps us meet our sustainability, social and economic goals," said Christopher L. Beschler, Chief Administrative Officer of Operations. "For this project, solar lighting was far more effective than traditional grid-tied street lighting, enabling us to provide our residents with visible proof of our city's commitment to sustainability."
Sol, which has installed more than 60,000 systems in more than 60 countries on six continents over the past two decades, is contributing to the technological renaissance currently underway in the $11 billion global outdoor lighting market, and is currently the solar lighting market leader in North America.
"There is no doubt that commercial solar outdoor lighting is now a cost-effective and high quality alternative to traditional grid-tied outdoor lighting," said Dibs Tailor, CEO of Sol. "As demonstrated by the public acclaim garnered by the Randolph West project, our commercial solar outdoor lighting systems provide significant economic benefits to budget-constrained municipal governments, while also contributing to a reduction in greenhouse gas emissions that mitigate the negative effects of global warming."
About Sol Inc.
Sol Inc. is a global leader in commercial outdoor LED lighting solutions powered by solar energy and the market leader in North America. Sol Inc. has provided reliable, cost-effective, customized and esthetically pleasing solar lighting solutions for a wide range of lighting applications including roadways, parking lots, paths and trails, perimeter security, campuses, military bases, storage areas and for ad lights or monument signs. Sol's lighting solutions are less expensive than grid-tied lighting for many applications because they eliminate the cost of wiring, trenching and other electrical and utility costs. In many cases, payback can be achieved immediately. For more information, please visit www.solarlighting.com.
Featured Product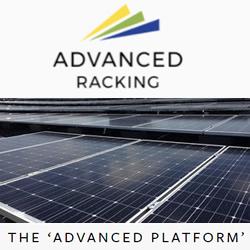 The 'Advanced Platform' simplifies the installation process by using universal mounting hardware that works perfectly across all roof types. Smart roof connection kits then connect to the specific roof's surface. The Advanced Platform is versatile: Our common design can be your single solution for all roof types.