Thanks to patented technology, the Ultraverter blueplanet flex will fit any grid voltage – wherever.
Neckarsulm / San Antonio, June 4th, 2014 – Utilizing an innovative approach KACO new energy puts a new spin on micro-inverters: The Ultraverters are the first product that can be applied worldwide without any modifications – one component for all the grid voltages.

The ultraverters blueplanet flex and blueplanet flexgate combine the best features of string and micro-inverter technology in one advanced concept: Due to a newly designed control system, multiple low voltage inverters can be connected in series up to the desired system output voltage. System designers using blueplanet flex can now realize the savings of AC module building blocks.
Low voltage inverters are the core of the blueplanet flex ultraverter concept. Components can be chosen from a much broader pool used in equipment across many fields. Lower cost, higher volume components provide for better life expectancies, maximum uptime, and easy replacement. Higher yields, lower total cost of ownership, and highest efficiency in its class make the blueplanet flex ideal for every owner of a residential or small commercial solar power plant.
Low voltage blueplanet flex combine in AC strings up to 277 V nominal to ensure safe handling of the units during installation and maintenance. Rapid disconnection at the module level ensures compliance with modern safety requirements for arc fault and fire fighter safety.
With patented control technology allowing for series AC connections, blueplanet flex is compatible with every voltage range worldwide using a single product SKU. Simply select the correct number of modules for your interconnection voltage. One universal inverter for all grids means logistics and forecasting are easier than ever. No matter the PV project requirements, the blueplanet flex will master every plant design challenge. And with an industry leading efficiency of 97 % at that.
The blueplanet flexgate communicates to data loggers and monitoring equipment via SunSpec Modbus RTU and TCP protocol. USB access to an onboard data logger with two weeks of local storage memory aids with troubleshooting.
Press Release and pictures are also available at www.kaco-newenergy.com/news
About KACO new energy:
KACO new energy is amongst the world's largest manufacturers of solar inverters. With 850 employees and offices in 16 countries, the company offers inverters for every array size from the smallest homes to the largest solar farms of hundreds of Megawatts. KACO new energy is based in Neckarsulm, near Stuttgart, Germany and the production facilities there, in the Americas and Asia have supplied nearly 7 Gigawatts of inverters since 1999. The Company was the first inverter manufacturer to achieve fully carbon-neutral production and is rapidly heading towards power self-sufficiency. KACO new energy also supplies energy storage systems and battery inverters, as well as inverters for combined heat and power plants and CPV systems. KACO new energy is celebrating the centenary of the original company in 2014.
Featured Product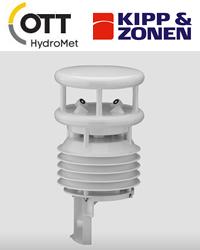 The WS50PV is an affordable, compact all-in-one weather sensor measuring the most critical parameters for commercial and industrial PV monitoring. Equipped with a suite of professional measuring sensors, the WS50PV can handle air temperature, relative humidity, barometric pressure, wind direction, and wind speed in one efficient housing to simplify mounting. Add an external temperature or rain sensor to the single-wire digital Modbus interface for fast and easy integration. The WS50PV is the tool you need for unlocking solar energy performance.