World's Largest Mobile Solar Powered Generator Ready for Remote, Off-Grid Demonstrations
STUART, Fla., June 17, 2014 -- Ecosphere Technologies, Inc.

(OTCBB:ESPH), a U.S. technology licensing and innovative manufacturing
company, today announced completion of the first Ecos PowerCube(R), the
world's largest mobile, deployable solar powered generator.
Dean Becker, Director and Intellectual Property Strategist for Ecosphere
Technologies, stated, "This innovative patented solar technology has the
potential to be one of the most important solar patented innovations of our
generation. The Company is ready to begin immediate demonstrations and looks
forward to working with strategic partners across a wide variety of
industries and applications globally to monetize this unique asset."
Designed to meet the growing demand for off-grid energy and
telecommunications, with a unique array of stacked solar panels, the
patented Ecos PowerCube(R) maximizes the total amount of solar power
generation possible in 10', 20' and 40' standard ISO shipping container
footprints.
With power generation capabilities up to 15 kW, the Ecos PowerCube(R) can be
used to power various onboard systems, including wireless
telecommunications, solar powered Internet, and mobile water treatment
systems. Electricity generated by the Ecos PowerCube(R) system can be used
to supply military or emergency response and disaster relief teams with
life-sustaining, mobile infrastructure modules, such as hospitals, command
centers, sleeping quarters, and temporary schools.
Dennis McGuire, Chairman and CEO of Ecosphere Technologies and Inventor of
the Ecos PowerCube(R), said, "Ecosphere has worked diligently to design,
engineer and receive patent protection for our Ecos PowerCube(R). From a
technology standpoint, we believe today's announcement that we have
completed manufacturing of this highly mobile, renewable power generation
system is a significant milestone for the Company."
See images of the Ecos PowerCube(R) at
http://www.ecospheretech.com/water-recycling-news/blog/post?id=5894
For more information on the patented Ecos PowerCube(R) technology, please
visit
http://www.ecospheretech.com/environmental-engineering-technologies/pow
ercube
About Ecosphere Technologies
Ecosphere Technologies, Inc. (OTCBB:ESPH) is a U.S. technology licensing and
innovative manufacturing company that develops environmental solutions for
global markets. We help industry increase production, reduce costs, and
protect the environment through a portfolio of unique, patented clean water
and energy technologies:
Technologies like Ozonix(R) and our Ecos PowerCube(R), which are licensable
across a wide range of industries and applications throughout the world.
For more information, please visit http://www.ecospheretech.com
To receive timely information on Ecosphere Technologies, sign up for
Ecosphere's email news alert system at http://www.ESPH-IR.com.
Featured Product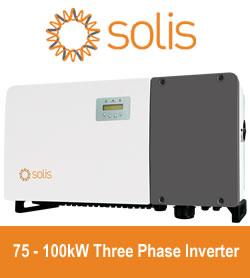 Solis75kW - 100kW series high-power string inverters are widely used in industrial and commercial rooftops. Solis's new three-phase string inverter is the first choice for industrial and commercial photovoltaics. 75-100kW three phase series string inverter have Maximum 28 strings input, support "Y" type connection in DC side. Maximum string input current 13A, support bifacial modules access.Supports anti-PID function to improve system efficiency.