Bill could harm the local solar industry by creating uncertainty, decreasing solar benefits, penalizing existing solar customers and excluding municipal light department customers from access to solar
The Solar Energy Business Association of New England (SEBANE) believes certain provisions of pending state legislation H.4185, An Act Relative to Net Metering and Solar, do not represent the best interests of Massachusetts consumers, nor are they conducive to the continued growth and success of the state's solar industry, SEBANE President Tom Thompson announced today. In fact, they will take the state backwards from its progressive policies, if not corrected.

SEBANE has represented the majority of solar companies in Massachusetts since 2001.
While SEBANE supports the draft legislation's elimination of the net metering cap, other changes resulting from the bill would significantly disrupt the operations of locally owned and operated solar businesses, many of which have been in the state for decades. Also, the proposed bill legislates details of the solar market in complex ways that reverse progress made under the Green Communities Act.
Specifically, SEBANE is encouraging legislators to amend the following:
Minimum Bill Approach Flawed
SEBANE supports creating a utility rate structure that provides fair compensation to distribution companies, but the 'minimum bill' as proposed is not the solution.
The proposed approach presumes a cost to ratepayers from distributed generation such as solar, but does not take into account solar's substantial benefits to ratepayers, which far outweigh any cost. These benefits include fuel diversification; grid resiliency; energy price suppression; power quality improvements; reduced, deferred or avoided transmission and distribution system upgrades; and environmental impacts such as improved air quality.
Second, the bill does not define a ceiling or even guidelines for how high the minimum bill would be set, creating deep uncertainty in the solar market.
"We support creating a more appropriate utility rate structure, but let's not handicap an already complex issue with unnecessary legislated mandates. This question should be worked out in an open public process. A sensible solution wouldn't penalize the more than 11,000 citizens, businesses and municipalities that have been early investors in solar energy," Thompson said.
Municipal Utility Customers Excluded
The proposed bill would also begin to exclude customers of municipally owned utilities from the program that replaces the current SREC structure.
"Massachusetts citizens living in these towns should not be excluded from the benefits of solar energy," Thompson said.
Larger Solar Energy Systems Discouraged
Solar system sizing should not be limited by arbitrary guidelines that will drive the rooftop solar market toward smaller projects. The Commonwealth should do all it can to maximize solar development where good infrastructure exists.
Virtual Net Metering Change is Discriminatory
Upwards of 80% of households and businesses in Massachusetts cannot take advantage of solar because they rent their properties, lack adequate credit, don't have appropriate roofs, or have shady sites. Through Massachusetts' existing virtual net metering policy, the benefits of solar are available to these people.
Under the proposed legislation, solar customers who virtual net meter some of their production would receive significantly lower compensation from the utilities than they do today, and less than that received by solar customers who don't virtually net meter.
"As a fundamental matter of equity and fairness for all citizens, behind the meter and virtually net metered solar customers should be treated equally, as they are under current law," Thompson said.
More information on these issues is available in a letter sent by SEBANE to the Joint Committee on Telecommunications, Utilities and Energy.
Featured Product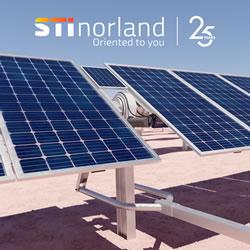 Developed in 2017, the STI-H250â"¢ is consists of two linked torsion beams that rotate simultaneously following the sun's path. They are moved by just one motor, cutting supply and maintenance costs. STI-H250â"¢ dual-row tracker includes backtracking mode to avoid shadowing between adjacent rows and stow function to protect the tracker in extreme wind conditions. For cleaning, vehicles can pass between trackers and each row can be placed in a different position.