Integrated chip allows monitoring and metering in one easy-to-install device
BETHEL, Conn., July 2, 2014 -- Monitoring photovoltaic power plants just got a whole lot easier. Solar Data Systems, Inc., the leading provider of PV power monitoring solutions, has merged its proven technology with General Electric's popular GE I-210+ meter. From the outside, the device looks like the well-known GE residential and commercial meter. On the inside, however, it now features the Solar-Log® chip.

The built-in Solar-Log® chip monitors and logs incoming data from the solar array with revenue-grade precision required to collect state and utility incentives, including performance-based incentives (PBIs) and solar renewable energy certificates (SRECs).
"Fitting our technology into the popular GE meter provides our customers with the best of both worlds: Solar PV monitoring and electric power metering in a single and easy-to-install device," says Anton Kaeslin, president of Solar Data Systems. "The Solar-Log® & GE Meter guarantees maximized PV plant performance and provides revenue-grade power reporting."
The built-in Solar-Log® can transmit data via 3G cellular modem or Ethernet. A Solar-Log® & GE Meter bus allows up to 16 more meters to be connected to the monitoring system. Data logging and meter functions can be configured remotely. The Solar-Log® Dashboard neatly and clearly presents plant performance data graphically and numerically. Apps for iPhone and Android devices enable plant monitoring on the go. The Solar-Log® & GE Meter works with microinverters and string inverters of all major brands.
Solar Data Systems will introduce the new Solar-Log® & GE Meter at Intersolar North America (booth #8233), July 8-10 in San Francisco. The integrated meter will ship to installers and distributors beginning in the fourth quarter.
Solar-Log® & GE Meter Overview:
*Revenue-grade metering and direct inverter monitoring with over 80 manufacturers in a single device
*Attractive Solar-Log® Dashboard for presenting plant performance via local or public display
*Plant performance visualization via iPhone (iOS) and Android apps
*Convenient online plant performance and power meter monitoring via Solar-Log® WEB
*Online remote configuration of data logging and meter functions
*Meteorological satellite data-based performance monitoring
*Integrated Internet access through cellular or local area network (LAN)
*Works with microinverters and string inverters
*Certified Revenue Grade Metering (RGM) incentive reporting
About Solar Data Systems, Inc.
Solar Data Systems, Inc. is the maker of Solar-Log®, a web-enabled monitoring system for photovoltaic plants. Based in Bethel, Connecticut, Solar Data Systems helps plant owners increase visibility of PV production and conditions of PV systems. The Solar-Log® product family enables plant owners, installers and renewable finance companies to maximize PV performance by effectively restoring plant performance to normal operations. Key functions of the Solar-Log® include real-time detection of problems followed by immediate alerts, automatic and comprehensive failure information and revenue-grade metering for incentive reporting. Solar-Log® currently monitors an ever-growing number of 225,000 plants globally, amounting to over 6.7 GW of power output. Solar Data Systems is a division of Solare Datensysteme GmbH, which is headquartered in Binsdorf, Germany.
www.solar-log.net
Featured Product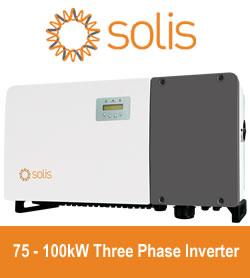 Solis75kW - 100kW series high-power string inverters are widely used in industrial and commercial rooftops. Solis's new three-phase string inverter is the first choice for industrial and commercial photovoltaics. 75-100kW three phase series string inverter have Maximum 28 strings input, support "Y" type connection in DC side. Maximum string input current 13A, support bifacial modules access.Supports anti-PID function to improve system efficiency.