Additional Highlights Include Solar Cities Mayors Panel and New Intersolar Champion of Change AWARD
SAN FRANCISCO, July 7, 2014 -- For the second year in a row, the honorable Gov. Edmund G. Brown Jr. will deliver the keynote speech at Intersolar North America, the most well attended industry exhibition and conference in North America for solar professionals to exchange information and develop business opportunities. Governor Brown will address event attendees on Monday, July 7 at 5:30 p.m. during the Intersolar North America Opening Ceremony at the InterContinental Hotel in San Francisco.

The Opening Ceremony will also feature remarks from Mayor Edwin M. Lee, mayor of San Francisco; Franz Untersteller, minister of the environment, climate protection and the energy sector, Germany; Kevin S. Parker, New York state senator; Bernadette Del Chiaro, executive director of the California Solar Energy Industries Association (CALSEIA); and Prof. Dr. Eicke R. Weber, director of the Fraunhofer Institute for Solar Energy Systems (ISE). The event kicks off the Intersolar North America exhibition, which will showcase the latest industry innovations and provide valuable networking and educational opportunities.
Intersolar North America returns to California for the seventh time in 2014, reflecting the state's tremendous leadership in the solar industry. CALSEIA reports more than 47,000 people are employed at approximately 1,700 companies in the solar industry in California. The state ranks first nationally in terms of megawatts of solar installed, with more than 4.1 GW of solar installed. Governor Brown will discuss the state's national and global leadership.
"Governor Brown has been an ardent supporter of the solar industry in California," said Markus Elsasser and Klaus W. Seilnacht, respective CEOs of the Intersolar organizing companies, Solar Promotion International and FMMI International GmbH, in a joint statement. "We are thrilled that he will once again speak at the Intersolar North America opening ceremony. The state's continued investment in renewable energy demonstrates how supportive policies can foster a new industry, and we're excited to join Gov. Brown in celebrating the successful integration of more solar onto the grid than any prior year in history."
Intersolar North America expects to host more than 18,000 visitors and approximately 550 exhibitors to this year's exhibition and conference, held July 7 to 10 at the Moscone Center West and InterContinental Hotel. Solar professionals travel from around the world to attend this event, which showcases the latest PV technologies, balance of system components, energy storage advancements, solar heating and cooling products and more.
More than 200 speakers from the industry's leading companies, trade groups and market research firms will deliver their insights during three days of panel discussions. Additionally, the Intersolar North America conference is also collocated for the first time with Solar 2014, the 43rd national solar conference hosted by the American Solar Energy Society. This year's event features an expanded focus on energy storage, project financing and new business models, and reliability/bankability issues facing large-scale solar installations. Additionally, discussions will cover the incentive landscape, new market developments and breakthrough technologies.
Mayor Panel Showcases Solar Cities
New this year to the Intersolar North America conference is the Green and Solar Cities Mayor Panel, a high-profile panel discussion that will impart best practices on developing solar-friendly programs and policies. Mayor Pro Tempore of Santa Monica Terry O'Day will discuss the city's extensive electric vehicle initiative; R. Rex Parris, the mayor of Lancaster, Calif., will discuss how the city became one of the first "Net Zero Cities" in the world; Mayor of the City of Santa Ana, Miguel Pulido, will highlight the establishment of the Southern California Clean Tech Initiative; and Palo Alto Mayor Nancy Shepherd will talk about the city's PaloAltoGreen program and the strategy the city used to become the first certified Green Power Community by the U.S. Environmental Protection Agency. The panel will take place on Wednesday, July 9 at 4:15 p.m. at the InterContinental Hotel.
Champion of Change AWARD Winner Celebrated At Intersolar AWARD Ceremony
Additionally, the Californian Solar Energy Industries Association (CALSEIA) and Intersolar will, for the first time, bestow the Intersolar Champion of Change AWARD to an individual who has demonstrated an outstanding commitment to supporting renewable energy at the national and international levels. This year's recipient is Michael R. Peevey, president of the California Public Utilities Commission (CPUC). Throughout his career Mr. Peevey has lead initiatives to maximize energy efficiency and integrate renewable energy. He has advocated for new technologies that can deliver high-quality energy services, while improving our environment. The Champion of Change AWARD will be given at the Intersolar AWARD ceremony on Tuesday, July 8 at 3:00 p.m. at the Innovation & Application Stage at the Moscone Center West (level 3, alcove 3).
About Intersolar North America
With events spanning four continents, Intersolar is the world's leading exhibition series for the solar industry and its partners. It unites people and companies from around the world with the aim of
increasing the share of solar power in our energy supply.
Since its establishment in 2008, Intersolar North America has become the most attended solar event and the premier networking platform for the North American solar industry. Co-located with SEMICON West, it takes place annually at the Moscone Center in San Francisco, California, the United States' pioneering solar market.
The event's exhibition and conference both focus on the areas of photovoltaics, PV production
technologies, energy storage and solar thermal technologies. Since being founded, Intersolar has
become the most important industry platform for manufacturers, suppliers, distributors, service
providers and partners of the solar industry.
A total of 576 exhibitors and 17,163 trade visitors participated in Intersolar North America in 2013. The conference featured more than 50 sessions with more than 200 speakers and approximately 1,600 attendees.
With more than 20 years of experience, Intersolar has the unique ability to bring together members of the solar industry from across the world's most influential markets. Intersolar exhibitions and
conferences are held in Munich, San Francisco, Mumbai, Beijing and Sao Paulo. Starting in 2014, these global events will be complemented by the Intersolar Summits, which will take place in emerging and growing markets worldwide.
For more information on Intersolar North America, please visit: www.intersolar.us
Organizers: Intersolar North America is organized by Solar Promotion International GmbH, Pforzheim and Freiburg Management and Marketing International GmbH (FMMI).
Featured Product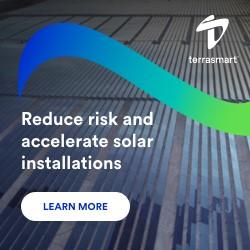 The first and only single axis tracker that allows you to turn unusable land into valuable assets. Built tough for reliable performance, TerraTrak will maximize energy output and returns conquering the most challenging sites. Employ PV where you never thought possible through durable mechanics and intelligent control technology.