The 10 largest suppliers in China 2013 were all domestic companies
London (July 15, 2014)—The Chinese photovoltaic (PV) solar inverter market grew by more than 100 percent in 2013, providing a huge boost to the country's domestic supplier base, according to the latest report from IHS Technology (NYSE: IHS).

The 10 largest suppliers in China 2013 were all domestic companies, and all benefited from explosive growth as the market expanded to nearly $800 million, up from $400 million in 2012. China's PV inverter market is forecast to generate robust growth over the coming years and reach 18 gigawatts (GW) of annual shipments in 2018, up from 11 GW in 2013.
Much of this growth will be driven by the increasing momentum of the distributed PV business. China's push toward distributed PV has been to slow to get started, and IHS believes that actual installations fell significantly short of the 8 GW target that was set for 2013. Nonetheless, this increasingly important segment will be a key driver for growth.
Furthermore, this shift toward smaller rooftop systems will spur the adoption of lower-power inverters.
Inverters play an essential role in PV installations, converting the direct current (DC) electricity produced by solar panels into alternating current (AC) useful in power grids.
These findings can be found in the report, "PV Inverter China Market Report – 2014," from the Power & Energy service of IHS.
International suppliers shut out
For the second year in a row, no international suppliers appeared among the IHS ranking of the 10 largest PV inverter suppliers to China.
However, domestic suppliers also faced problems of their own. Although China represents a huge opportunity for its own suppliers in terms of volume, low pricing caused by fiercely competitive local companies, highly complex business conditions and lengthy credit terms have either prevented them from succeeding in gaining a sizable share of the market, or forced them to concentrate on other regions.
For the fourth consecutive year, Sungrow was the largest supplier to the Chinese market, accounting for more than 30 percent of industry revenue in 2013. The remaining top 5 suppliers were TBEA Sunoasis, Emerson Network Power, Chint and KStar, all of which held a market share of more than 4 percent, as presented in the attached table
Whilst growing rapidly in 2013, China's PV inverter supplier base showed some signs of fragmentation, and the number of suppliers with a market share of greater than 2 percent increased from 10 in 2012, to 13 in 2013.
Distributed PV drives long-term growth and shift toward smaller inverters
China has also begun to show increasing support for smaller distributed PV systems within the last year.
"After several years of dramatic growth for huge ground-mount utility-scale projects in remote areas of the country, China has begun to place increased emphasis on the development of distributed rooftop solar in areas with high demand for electricity," said Frank Xie, senior PV market analyst at IHS. "However, the development of this market has fallen below expectations due to a lack of clear policy and funding, and also from a shortage of experience in installing rooftop systems."
IHS predicts that 4 GW of distributed PV systems will be completed in 2014, despite China's target for the year amounting to double that number.
To be sure, the market is heavily weighted at present toward utility-scale systems, with China's PV inverter industry previously dominated by high-power inverters, which accounted for 93 percent of revenue in 2013. But the emergence of a significant market for smaller distributed PV systems is forecast to result in substantial opportunities for smaller inverters.
Less than 200 megawatts (MW) worth of low-power, three-phase inverters—equivalent to, or less than, 35 kilowatts (kw)—were shipped to China in 2013. However, this is predicted to grow to more than 1 GW in 2014 and to over 5 GW in 2018. This expansion will be driven not only by the growing distributed PV market, but also by three-phase low-power inverters being increasingly considered for large ground-mount systems. Such an approach has become increasingly common in Europe, with three-phase low-power inverters accounting for almost one-third of utility-scale systems in Germany last year. This approach is now also being heavily promoted by Chinese suppliers.
The attached figure presents the IHS forecast of three-phase low-power and high-power PV inverter shipments to China.
"The use of small string inverters in large PV systems can deliver a number of benefits," Xie commented. "Should a single inverter fail, it does not cause a large part of the system going down, and the failed inverter can quickly be replaced. Small string inverters also result in a larger number of maximum power point trackers in the array, which can increase the output of the system; and in many cases can simplify installation, as specialized lifting equipment and transport is not required."
Newcomers to the market, such as Chinese telecommunications giant Huawei, and companies that had previously focused on exporting low power inverters, are beginning to aggressively promote the use of small inverters in utility-scale systems in China. IHS predicts that although high power inverters will continue to make up the vast majority of this segment, low power inverters will quickly gain acceptance and by 2016, over 1 GW of low power inverters will be shipped to utility-scale (≥5 MW) systems in China.
"Growing demand for smaller inverters in China is likely to lead to some significant changes to the PV inverter supplier rankings in 2014 and 2015," Xie added.
By 2018, China is predicted to account for a larger share of global three-phase low shipments than any other country. However, substantial demand for high-power inverters will remain, and China is also forecast to continue to be the largest market for such inverters, with annual shipments exceeding 10 GW each year for the next five years.
"Although, small string inverters will account for a growing share of the market, IHS forecasts that large central inverters will remain the mainstream for utility-scale PV systems in China due to their lower upfront cost and fewer connection points," Xie concluded. "High power inverters are predicted to account for 80 percent of shipments to these systems in 2018."
Featured Product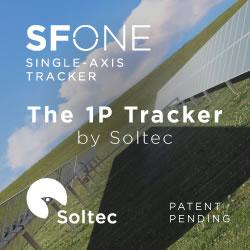 SFOne is the 1P single-axis tracker by Soltec. This tracker combines the mechanical simplicity with the extraordinary expertise of Soltec for more than 18 years. Specially designed for larger 72 an 78 cell modules, this tracker is self-powered thanks to its dedicated module, which results into a lower cost-operational power supply. The SFOne has a 5% less piles than standard competitor, what reduces a 75% the labor time.