The price of domestic seamless steel pipe continues to fall recently, which is particularly prominent in North China area, Tangshan is the main representative.
In June, seamless steel pipe prices have been followed by the reduction in strip steel prices fell after the settlement conference, strip prices despite a rebound, but the price of seamless steel pipe did not immediately follow up with signs,, what is the reason for such a trend for seamless steel pipe prices? Here to make a specific analysis:

Firstly, the Steel market is still in the off-season, multiple high temperature and heavy rains, outdoor operating situation has not improved also. Engineering projects remain small, limited end-user demand, few stocking, and excessive inventory will also cause backlog in the pipe factory.
Secondly, in the background of the whole industry being at a loss, many large trader dealers are reducing their inventories, and some smaller agreement clients choose the operation mode shipping directly from steel household not taking inventory of steel to avoid risks. Besides,with the strict limits to bank loans for the steel industry , many traders find it difficult to survive here.it would be difficult to achieve a breakthrough If there is no support of national policy,, the latter situation is still not optimistic.
Thirdly, although have the intention to control the inventory and avoid becoming a drag on stock funds , once the market improves, increase production, steel mills control action on the power loss in the collapse, is a "temporary solution"
To sum up: steel mills to take reasonable measures to control inventory, but for the price adjustment is not positive, most think the price adjustment action to stimulate the turnover is limited, so to stabilize the main quote. Further plants are considered excessive tube and steel pipe price spread between the price decrease in profit margins narrowed, there is not enough profit, few companies are willing to loss Paohuo. In the case of weak demand, seamless steel pipe market is difficult to quickly reverse the vulnerable situation, there is no real price rally conditions. Short-term pipe prices still weak consolidation, Change dilemma appears.
Featured Product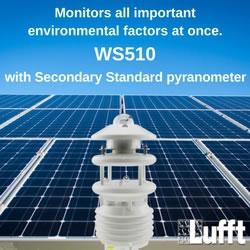 Professional weather sensors form the heart of large solar plants supporting their operation and performance. Lufft was the first manufacturer to combine several sensors in one housing, bringing the largest multiparameter weather sensor family with 19 members into being. Many of them are well-suited for solar site assessment and continuous monitoring. The most commonly used one is the WS600 delivering data on temperature, air pressure, wind, relative humidity and precipitation. Through its open protocol, it can easily be attached to radiation sensors e.g. from Kipp&Zonen. Other models have an integrated Silicon, Second Class or Secondary Standard radiation sensor.