Alternative Energy, Inc. decided to test a SUNRNR portable generator to power a contractor's tools while doing a complete deck restoration. Read on to see how the generator fared!
We decided to put a SUNRNR generator to the test and do a complete deck restoration with a SUN 110. Not only was the SUN 110 generator up to the task...it excelled!

Portable solar generators have the power to replace gasoline generators on job sites - with no noise, no fuel and no fumes!
CRI Improvements of Chester County, PA completed a deck restoration with 100% solar power. A SUN 110 generator from Alternative Energy, Inc. provided power for three days for the following equipment:
AC Power Tools:
15 amp circular saw
9 amp hammer drill
15 amp reciprocating saw
15 amp table saw
15 amp sliding compound miter
10 amp compressor with air impact and nail gun
Battery-Powered Tools:
drill drive
circular saw
impact driver
jig saw
(2) 18V chargers – cycling (3) 18V batteries
(1) 24V charger and battery
Electronics / Communications
Charging for iPad, iPod, and iPhone
Radio and amplified speakers
Keep reading at Alternative Energy, Inc.'s website (listed above).
Featured Product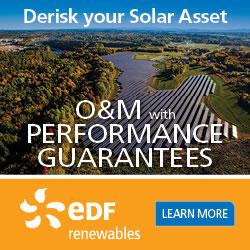 EDF Renewables offers the same innovative solutions that maximize the performance of our own 5.2 GW of installed projects. Because we're not an equipment manufacturer, our recommendations are transparent and data-driven. We cover the entire project lifecycle: from pre-commissioning support, through warranty and post warranty operation, to late stage and decommissioning.