Rudolph/Libbe and GEM Energy, of the Rudolph/Libbe Companies, have completed a 2.1MW solar array on a 22-acre south Toledo brownfield site that was once in receivership. The new array will supply about 30 percent of the Toledo Zoo's electricity each year under a power purchase agreement.
A 22-acre south Toledo brownfield site that was once in receivership is starting a brand-new life – as home to a 2.1MW solar array that will supply about 30 percent of the Toledo Zoo's electricity each year.

Bordered by a buffer zone with newly planted trees and green spaces for native grasses that will be planted this fall, the 28,500-panel solar array is one of the largest in the nation to supply power to a zoo.
The solar array and property are owned by a group of local investors led by Rudolph/Libbe Companies. Rudolph/Libbe and GEM Energy, of the Rudolph/Libbe Companies, designed, developed and constructed the solar array, and structured the exclusive power purchase agreement with the Toledo Zoo.
The project was built with Calyxo solar modules, which use innovative thin film technology developed in Toledo. Nextronex, of Toledo, provided the inverters, combiner boxes, and distributed architecture for the solar array. AP Alternatives LLC, of Ridgeville Corners, supplied steel racks for the solar modules. The ground-mount system contains no moving parts. The array will produce approximately 2.6MWh per year.
Jeff Sailer, executive director of the Toledo Zoo, said, "Environmental stewardship is an integral part of the Toledo Zoo's mission. This solar array supports the Zoo's mission by using cleaner and greener energy, reducing reliance on non-renewable energy while providing an inspiring example for Zoo visitors."
"Energy cost and environmental stewardship are increasingly important to our customers in today's global economy," said Bill Rudolph, chairman of Rudolph/Libbe Companies. "We're honored to support the Toledo Zoo's mission of environmental stewardship through this project. This is an exciting time for Rudolph/Libbe and GEM Energy to be helping our customers manage their energy needs."
Local union labor from northwest Ohio constructed the project, which created about 60 construction jobs. "We employ many of the area's most skilled, dedicated and experienced tradespeople. We were proud to put them to work on this solar array," said Jason Slattery, director of solar for Rudolph/Libbe Inc.
"This project is a great example of the public and private sectors working together to benefit the zoo and the community," Slattery added. "We took a contaminated brownfield site, a financial burden for the city, and turned it into a win for the city of Toledo and the Toledo Zoo."
In 2010, Rudolph/Libbe also designed and built the Toledo Zoo's SolarWalk. The SolarWalk includes more than 1,400 solar panels and is designed to resemble a snake winding along the perimeter of the zoo parking lot to the entrance. Last year, the SolarWalk generated 99,041.29 kWh of electricity.
Rudolph/Libbe is ranked 105th among Solar Power World's "Top 250 Solar Contractors in the U.S." and 45th among the magazine's "Top 50 Commercial Solar Contractors" for 2013. Rudolph/Libbe is the highest ranking Ohio-based contractor recognized on both lists generated by Solar Power World, with 2.2 megawatts installed in 2012 and a total 10 megawatts installed.
The Rudolph/Libbe Companies is among the region's largest contractors and employs 1,000-1,500 construction trades through offices in Lima, Toledo, Cleveland and Walbridge, Ohio; and Plymouth, Michigan.
Featured Product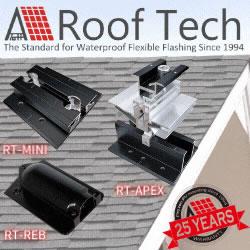 Now Roof Tech brings you the most innovative, watertight mounting systems ever developed for solar photovoltaic systems. Designed and manufactured exclusively for us by Japan's longtime leader in roofing technologies, Roof Tech products are 100% code-compliant and offer fast, simple installation and huge savings on shipping costs due to their compact, rail-less design. Learn more about our full line of versatile PV mounting solutions now available for residential installations. The next generation in rooftop solar mounting solutions."