2014 alternative power exhibition came with a bang in Lagos and it was a success .
6th Alternative Power Exhibition 2014 in Lagos came with a bang.

1. The alternative power expo(www.alternativepowerexhibition.com)in Lagos is an annual event where different alternative power products are displayed for the populace to see and buy.from the word alternative,these are power products that can generate power from sources without the government power,infact these sources of power are renewable in nature meaning they are easily replaceable on their own like sun,water,wind,biomass ,etc.
2. The exhibition is a brain child of Folub Eletrik Servz,(www.folubelerik.com)an electromechanical and renewable energy company in Lagos.the idea came as a way of bringing to the general public the avenue to see,buy and put thier trust in the renewable power source,more importantly to increase the awareness on environmentally friendly products /services and help Nigerians to begin to be watchfully of their power generation habits with fossil fuel and it's implications.the last 6 years have witness a collaboration with Lagos television to bring it to the populace.
3. This year theme is 'Alternative power sources: private sector opportunities' and why we have this is to let the private sectors understand that there are many benefits in the sector like the economic,environment and job creation benefit that abound in the sector.
4.This year exhibition was for 4days from 6th -9th August 2014 under de-blue roof at the Lagos Television complex,Lateef Jakande Rd,agidingbi,Ikeja.
5. This year witnessed a large turnout in terms of exhibitors ,crowd and speakers.each day of the event was dedicated to different users of the alternative power sources like the Artisan association of Lagos state comprises of the frozen food sellers,caterers/decorators,welders,tailors,carpenters,printers,typists,radionics,electricians,etc and the teachers association  who were the home users as well.
6. The resource personals who came to throw more light on the topic each day also did well like the guest speaker on the opening ceremony was Mr Segun Adaju,chief of party at Winrock international,an NGO set up by USAID totally committed to renewable energy development in Nigeria,the Lagos state electricity board,LAWMA,council for renewable energy of nigeria.
7. Different exhibitors like solar way,green power ltd,Folub Alterpower ltd,Blue ocean ltd,binatone ltd,Airwaves ltd,Wandel ltd,carbon credit network,eldido ltd,lagos state electricity board,Eko gas,pacenine ltd were in  attendance with their products and services to meet the need of the crowd.The participants also express joy with the quality of products they saw at the fair ground while exhibitors were happy with the turnout on sales and of crowd at the fair.
8. Nigerian are encouraged to imbibe the attitude of generating clean alternative power products as they save money in their pocket,they also save the environment .these products are readily available from folub Eletrik Servz for them to pick from the solar lantern,solar light /phone charger,inverter with quality batteries,home solar solution that can power 1 bedroom ,2 bedrooms,3 bedrooms flat like t v,lightings,fridges etc.
Cost of Acquisition may be high initially but the economic. Benefit on the long run is huge,more so We are in discussion with Eco bank to finance this deployment as an asset acquisition for different customers while the customer pay over a period of time like buying car,furnitures,home appliances.
9. We at Folub  Eletrik Servz situated inside Lagos television complex want to tell Nigerians that we are there to satisfy their needs and curiosity,they can come to our office during the week to see,ask ,be informed about different alternative power products that is available for their use.we also want them to know that as they are using alternative power products,they are saving the environments for themselves and future generations.the government can not provide power for all of us and it's best to start providing for ourselves .
Featured Product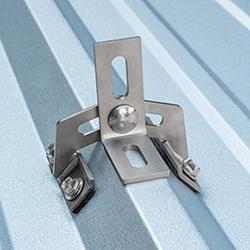 Explore new lines of income for your solar installation business with QuickBOLT's Stone Coated Steel roof mounts designed in partnership with metal roof manufacturers themselves. These SCS roof mounts work on all metal tile profiles and will help you bring in money you're missing out on. By not driving into the roofing material, QuickBOLT's Stone Coated Steel roof hooks maintain the integrity of the roof. Install with ease and confidence knowing your roof is protected against the harsh elements that these hooks are designed for.