Mexico's Banco Interacciones and China's Envision Energy will jointly explore projects in Mexico.
San Francisco, CA August 26, 2014

Banco Interacciones (Interacciones), a subsidiary of Grupo Financiero Interacciones and Envision Energy (Envision), the Shanghai-based world leader in smart wind power and renewable energy, have signed a memorandum of understanding ("MOU") to jointly carry out exploration, structuring and the pursuit and/ or installation of renewable energy projects in Mexico.
Under the MOU, Envision and Interacciones will cooperate and work together to explore early stage and developed wind-power projects in Mexico. Envision brings its cutting edge technologies and expertise in developing and operating renewable energy projects, while Interacciones will use its experience and strong local presence in Mexico's business sector to identify potential projects and investment opportunities, as well as provide financial structuring and coordinate institutional and government relations.
This agreement is undertaken within the context of strengthening commercial and diplomatic relations between China and Mexico, which have been recently made a priority by the current Presidents of both nations.
Carlos Hank GonzŠlez, CEO of Grupo Financiero Interacciones, pointed out that, "this strategic alliance with Envision will allow both companies to take advantage of the many opportunities offered in Mexico under the new business climate that the recently passed energy reforms will generate in this sector to further foster the Mexican Government's ambitious National Infrastructure Plan. We are excited by the prospect of combining Envision's leadership in smart wind power and renewable energy with Interacciones' specialization in infrastructure projects."
Felix Xuyu Zhang, Executive Director of Envision Energy and CEO of Envision Energy (North America), pointed out that, "Latin America and Mexico in particular, are positioned as the premier emerging market for renewable energy, specifically wind power generation. This strategic cooperation will allow us to provide state-of-the-art technology together with structured financing to our clients."
About Grupo Financiero Interacciones
Grupo Financiero Interacciones, S.A. de C.V. ("Grupo Interacciones" or "GFI"), is the largest specialized Mexican financial group with a business model focused on providing financing, risk management and financial advisory services mainly to the Mexican public sector, which includes federal, state and municipal governments, quasi-government entities and government suppliers. Grupo Financiero Interacciones conducts its business mainly through Banco Interacciones, the most important infrastructure bank in Mexico as well as through Interacciones Casa de Bolsa, its broker-dealer subsidiary, and Aseguradora Interacciones, its insurance company subsidiary.
For more information, please visit http://www.investorsinteracciones.com
About Envision Energy International
Envision Energy International is the leading private wind turbine manufacturer and developer of wind farms in China, and global leader in smart energy solutions and systems to manage renewable energy assets in operation. The company has an installed capacity in excess of 2GW, book orders of 1.8GW and a 15GW pipeline in different countries. Envision Energy is headquartered in Shanghai, has manufacturing facilities in Jiangyin, a Global Research & Development Center in Denmark, as well as subsidiary operations and offices in Beijing, Osaka, Houston, Chile and Mexico City. The company recently established a Global Innovation Lab in Silicon Valley, California.
For more information, please visit http://www.envisioncn.com
Featured Product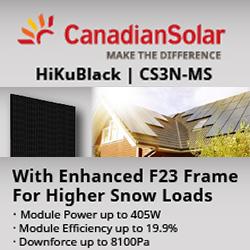 Aesthetic appearance for residential systems: With black backsheet & black frame, Power range 380 ~ 405 W, Low power loss in cell connection. Enhanced reliability: ¬∑ Low temperature coefficient (Pmax): -0.34 % / ¬įC, LID LeTID less than 2.0%, Lower hot spot temperature, Better shading tolerance.