NEC to launch sales of Space-Time Insight's real-time visual analytics applications in Japan and Asia Pacific
Space-Time Insight, the leading provider of next-generation situational intelligence solutions, and NEC Corporation (NEC; TSE: 6701) have announced the formation of a partnership for the smart energy market.

Under this partnership, NEC has concluded a preferred sales contract covering Japan and the Asia-Pacific (APAC) region with Space-Time Insight for the sale of several of the company's real-time visual analytics applications, which have already been successfully deployed to major utilities in North America and elsewhere around the globe. NEC plans to focus its sales efforts on demand response, small grids (microgrids) and advanced metering infrastructure (AMI). Space-Time Insight's software applications help businesses make faster more-informed decisions by correlating, analyzing and visualizing large volumes of business, operational and external data, spatially, over time and across nodes in a network.
Renewable energy, energy storage and smart meter initiatives are being driven by the need for more reliable and efficient electricity systems. With these systems continually generating vast quantities of data, there is an urgent need to quickly and accurately retrieve, analyze and take action on the data and derive greater operational insight.
This partnership enables NEC to combine its energy storage systems (ESS) and information and communication technology (ICT) solutions with Space-Time Insight's real-time visual analytics applications to provide electricity operators and local governments with a comprehensive view of the health and performance of storage batteries installed in different locations. In addition, the new applications enable the monitoring of solar, wind and other power-generation output, historical power generation trends, the operational status of individual smart meters, communications and health information, and other information that contributes to improving the stability and efficiency of power networks.
"To expand our product offerings, NEC required world-class visual analytics software that could handle big data and operate under real-time conditions," said Takemitsu Kunio, Senior Vice President of NEC Corporation. "Only Space-Time Insight, with a proven track record of successful deployments at major utilities globally, offered the breadth and depth of situational intelligence applications we needed."
"NEC's decision to partner with Space-Time Insight underscores the maturity of our applications, our situational intelligence vision for the market and proven worldwide success," said Rob Schilling, CEO of Space-Time Insight. "When coupled with Space-Time Insight's real-time visual analytics applications, NEC's smart energy products will deliver solutions that meet the needs of today's advanced utilities in the Japanese and the Asia-Pacific energy markets."
Featured Product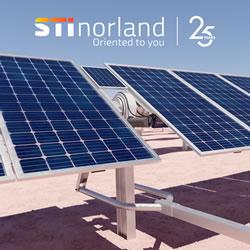 Developed in 2017, the STI-H250™ is consists of two linked torsion beams that rotate simultaneously following the sun's path. They are moved by just one motor, cutting supply and maintenance costs. STI-H250™ dual-row tracker includes backtracking mode to avoid shadowing between adjacent rows and stow function to protect the tracker in extreme wind conditions. For cleaning, vehicles can pass between trackers and each row can be placed in a different position.