This multi-partner R&D program aims at increasing the efficiency of solar cells and modules while at the same time lowering the cost for solar energy.
KYOTO, Japan, Sep 23, 2014 -- Belgian nanoelectronics research centre imec and Kyocera Corporation announced today that Kyocera, the Japanese high-tech electronics company and manufacturer of photovoltaic (PV) cells, modules and systems, has joined imec's industrial affiliation program (IIAP) to advance next-generation crystalline silicon solar cells.

This multi-partner R&D program aims at increasing the efficiency of solar cells and modules while at the same time lowering the cost for solar energy. This is done through the development of innovative industry-relevant solutions on different crystalline silicon solar cell technology platforms with improved efficiencies ranging from 22.5% to 25%.
The IIAP creates a research ecosystem for accelerating the development of intellectual property, sharing R&D resources and risks, providing companies a cost-effective way to extend their research and product development capabilities. Researchers from energy companies, solar cell manufacturers and material and equipment suppliers collaborate with imec's solar experts on developing advanced processes and testing them on imec's semi-industrial pre-pilot line. Covering the complete solar cell value chain, imec's industrial affiliation program provides essential information to help its partners make the right R&D choices to innovate their solar cell technologies, supporting them to maintain a competitive positioning in the solar cell market.
"We are excited that Kyocera, a powerhouse in the solar manufacturing business, has joined our research program. The commitment from Kyocera is a confirmation of the significance of our solar cell research for the global PV market," said Luc Van den hove, president and CEO at imec. "It is my strongest conviction that only by investing in R&D and innovation, companies can prepare for the future and stay ahead of the competition in a challenging environment such as the PV market."
"By collaborating with imec and its partners, we hope to further advance silicon photovoltaic cell technologies in order to make solar energy more accessible and usable for society," stated Nobuo Kitamura, senior executive officer and general manager of the Corporate Solar Energy Group at Kyocera Corporation. "As a pioneer of solar energy with over four decades of experience, Kyocera remains committed to promoting the further use of solar power generation and we believe that the IIAP provides us with these opportunities by bringing together the expertise from leaders in the industry."
About imec
Imec performs world-leading research in nanoelectronics and photovoltaics. Imec leverages its scientific knowledge with the innovative power of its global partnerships in ICT, healthcare and energy. Imec delivers industry-relevant technology solutions. In a unique high-tech environment, its international top talent is committed to providing the building blocks for a better life in a sustainable society. Imec is headquartered in Leuven, Belgium, and has offices in Belgium, the Netherlands, Taiwan, US, China, India and Japan. Its staff of over 2,080 people includes more than 670 industrial residents and guest researchers. In 2013, imec's revenue (P&L) totaled 332 million euro. Further information on imec can be found at www.imec.be. Stay up to date about what's happening at imec with the monthly imec magazine, available for tablets and smartphones (as an app for iOS and Android), or via the website www.imec.be/imecmagazine
Imec is a registered trademark for the activities of IMEC International (a legal entity set up under Belgian law as a "stichting van openbaar nut"), imec Belgium (IMEC vzw supported by the Flemish Government), imec the Netherlands (Stichting IMEC Nederland, part of Holst Centre which is supported by the Dutch Government), imec Taiwan (IMEC Taiwan Co.)and imec China (IMEC Microelectronics (Shanghai) Co. Ltd.) and imec India (Imec India Private Limited).
About Kyocera
Kyocera Corporation, the parent and global headquarters of the Kyocera Group, was founded in 1959 as a producer of fine ceramics (also known as "advanced ceramics"). By combining these engineered materials with metals and integrating them with other technologies, Kyocera has become a leading supplier of solar power generating systems, mobile phones, printers, copiers, electronic components, semiconductor packages, cutting tools and industrial ceramics. During the year ended March 31, 2014, the company's net sales totaled 1.45 trillion yen (approx. USD14.1 billion). The company is ranked #531 on Forbes magazine's 2014 "Global 2000" listing of the world's largest publicly traded companies, and was named as the world's No.1 manufacturer of advanced ceramics in the latest ranking by Ceramic Industry magazine.
Featured Product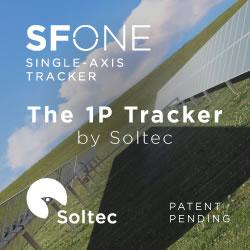 SFOne is the 1P single-axis tracker by Soltec. This tracker combines the mechanical simplicity with the extraordinary expertise of Soltec for more than 18 years. Specially designed for larger 72 an 78 cell modules, this tracker is self-powered thanks to its dedicated module, which results into a lower cost-operational power supply. The SFOne has a 5% less piles than standard competitor, what reduces a 75% the labor time.