San Diego-based Baker Electric Solar is pleased to announce it has installed its first SolarTrackr DUO solar system. The Wovn Energy solar tracker product points the system's solar panels towards the sun all day increasing efficiency.
San Diego, Calif. (PRWEB) October 08, 2014 -- Baker Electric Solar, a San Diego-based solar company that designs, builds and installs photovoltaic solar power systems across Southern California, is pleased to announce it has installed its first SolarTrackr DUO system. Wovn Energy's Hi-Yield Solar Initiative (HYSI) solar tracker product points a system's solar panels towards the sun all day increasing efficiency, reliability and energy independence.

When Escondido, California customers, Steve and Wendy Rogers, contacted Baker Electric Solar, their goal was to produce as much solar energy as possible with the least amount of equipment. They specifically requested a solar tracker system be installed.
Baker Electric Solar Energy Consultant Sinuhe Montoya designed an 8.1 kW solar system for the Rogers incorporating Wovn Energy's SolarTrackr DUO two-axis tracking system and is estimated to produce over 17,000 kWh per year. According to Wovn, the tracker system is 40 percent more efficient than a traditional ground mounted solar system. The Rogers' automated ground mounted system holds 30 LG 270 solar panels and uses one, made in America, SMA Sunny Boy 7000-US inverter. The Hi-Yield Solar internet-connected solar system has the ability to orient its solar panels in the directions that deliver the highest economic yield to the system owner, the utility and other utility customers. At night or during high wind storms, the tracker will lay the panels flat.
The Rogers' installation totals a PV surface area of approximately 500 square feet. Factoring in utility rate increases and locked-in low energy rate savings, the Escondido homeowners are projected to save $130,000 over 20 years.
"Most of the time solar panels should face the sun. But sometimes it's windy, sometimes it's cloudy. Sometimes your solar panels need a bath. We don't know when that will be, so we designed a solar system that figures that out on its own," Co-founder and CEO of Wovn Energy, Greg Robinson said. "The new SolarTrackr DUO is an internet connected device that continuously learns how to turn more sunshine into usable electricity."
The tracking system connects to Wovn Energy's network to monitor production. Similar to cloud servers, the solar tracker includes onboard diagnostics and troubleshooting capabilities, increasing reliability and minimizing downtime. Its management system and storage network allow it to act like a utility scale power plant--including power forecasting, voltage and frequency correction, demand response and islanding.
"With this innovative solar tracking system, our customers benefit because their solar panels face the best direction for energy production at all times," said Baker Electric Solar President Mike Teresso. "Baker Electric Solar is committed to staying on top of industry advancesóand the SolarTrackr DUO is a key one."
"We were excited to work with Baker from the day we got the call," said Robinson. "It is rare to find a forward-thinking group of people like the team at Baker Electric Solar, who can exceed expectations in every facet of their business. When you get to be part of that team, it's an honor."
For more information about Baker Electric Solar, visit http://www.bakerelectricsolar.com.
About Baker Electric Solar
San Diego-based Baker Electric Solar, designs, builds and installs photovoltaic solar power systems for new and existing homes, commercial facilities and utility-scale projects across Southern California. Baker Electric Solar is a BBB accredited business with an A+ rating. It ranked No. 1 on the Clean-Tech Companies List and No. 2 on the Alternative Energy Suppliers List published by the San Diego Business Journal; No. 14 on the Journal's 2014 Top 100 Fastest Growing Companies list; and No. 10 on the Best Places to Work in San Diego Medium Category. It also earned the 2013 Angie's List Super Service Award and recently was named one of Solar Power World Magazine's 2014 Top 400 Solar Contractors in North America. Baker Electric Solar is San Diego's first SunPower Elite Dealer. For more information, visit http://www.bakerelectricsolar.com.
Featured Product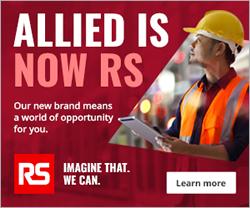 Imagine a global, end-to-end partner for industry - dedicated to solving your problems so you can drive your business forward. We can. On February 6, 2023, we officially changed our name to RS. It's just one way we're evolving to make our partnership and doing business with us even more rewarding. As RS, you have access to more support, more expertise, and more possibilities for your big and small projects - from concept and design to build and maintenance. Going forward, you'll see the RS logo on our website, social media, communications, and packaging. And rest assured, our current systems and procedures will remain intact to seamlessly process your order.