3.2 MW – EcoFoot2 - 10 acres - Indianapolis, IN – Developed by Melink Solar, installed by TMI Electric
ATHENS, Ohio, September 29, 2014 – Ecolibrium Solar, a manufacturer of flat roof mounting systems, is proud to announce the completion of the largest rooftop solar array in the Midwest, developed by Melink Solar and installed by TMI Electric. This project featured the installation of 12,264 modules for a total system size of 3.2 MW covering 10 acres utilizing EcoFoot2™ mounting hardware.

Melink General Manager Jeremy Chapman said, "Melink was impressed with the simplicity of the racking system and the ease of installation. The price point was very attractive as well." This quote highlights the key features of Ecolibrium's Ecofoot line, installation ease and speed and tremendous value.
Although the project was a success, Ecolibrium solicited feedback from Melink and other installers to optimize future installations. The industry requested preassembled clamps, so that is exactly what the company now delivers with EcoFoot2+, the newest addition to Ecolibrium's EcoFoot line.
Featured Product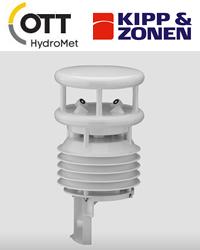 The WS50PV is an affordable, compact all-in-one weather sensor measuring the most critical parameters for commercial and industrial PV monitoring. Equipped with a suite of professional measuring sensors, the WS50PV can handle air temperature, relative humidity, barometric pressure, wind direction, and wind speed in one efficient housing to simplify mounting. Add an external temperature or rain sensor to the single-wire digital Modbus interface for fast and easy integration. The WS50PV is the tool you need for unlocking solar energy performance.