Thermostat Adjusts Based on User's Daily Activities – Helping Homeowners Save on Heating and Cooling Bills
October 21, 2014- Allure Energy, Inc., a smart technology provider based in Austin, Texas, announced today that EverSense®, a Wi-Fi enabled high-resolution color touchscreen thermostat, is now available at HomeDepot.com.

The product features patented Proximity Control Technology™, which adjusts the thermostat's settings based on the users daily activities. When residents leave the home, EverSense® automatically adjusts the temperature, so users save energy while they are away. Likewise, it senses when they are on the way back, returning the temperature to their perfect degree of cozy just in time for them to walk through the door. Homeowners never have to walk into an uncomfortable house again.
The product works with the free EverSense® iOS and Android app to allow users to automatically manage their home's temperature. EverSense® also features built-in speakers for wireless music streaming directly from smartphones. EverSense® is a green-friendly battery-free device, as it charges directly from the HVAC system and only uses power when it is needed. The product is simple to install, and is purposely-built to be slightly larger than most traditional thermostats in order to better cover the area previously covered by the old thermostat, saving homeowners from having to repaint.
"EverSense gives The Home Depot customers simple, automated control over their energy usage," said Kevin Imes, CEO of Allure Energy. "EverSense understands the preferences of the different people in the home and adjusts the temperature settings accordingly. For example if the user normally arrives home from work at six but is running out for dinner instead, EverSense automatically detects this and will lower or raise the temperature shortly before they arrive, instead of inefficiently adjusting it for an empty house. It also functions as a Wi-Fi wireless speaker and features added benefits such as energy-saving tips and weather forecasts with animated radar."
EverSense® is assembled locally in Austin, Texas at the headquarters of Allure Energy, a company that prides itself on innovation and value-added technology that fits a person's daily life. EverSense® retails for $299 and is available online and through home improvement stores. For more information, please visit allure-energy.com.
About Allure Energy
Allure Energy, Inc. is a smart technology provider based in Austin, Texas. Allure Energy develops leading-edge smart solutions that enhance a user's experience with minimal effort. As consumers and energy providers search for ways to reduce energy consumption without increasing costs, a balance must be maintained between privacy, security, lifestyle, comfort, and convenience. EverSense® is that solution.
Featured Product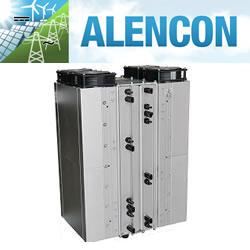 Alencon Systems is the premier manufacturer of high power, high voltage DC:DC optimizers for alternative energy applications including solar, battery energy storage, Microgrids, Fuel Cells and Electric Vehicle charging. Alencon's DC:DC converter offerings include the SPOT, BOSS and CUBE series DC:DC converters. The SPOT is a modular, uni-directional DC:DC solution ideal for solar applications. The BOSS is a modular, bi-directional unit for use with battery energy storage. The CUBE is a monolithic DC:DC converter which is available in both uni-directional and bi-directional modalities. Pictured above, is the Alencon SPOT.