SIBELGA CONTRACTS ELSTER FOR IMPROVED SMART METER COMMUNICATION
Elster has been contracted by Sibelga, the only distribution network operator (DNO) for electricity and natural gas in the 19 communes of the Brussels Capital Region. Elster will provide the core platform for the utility's Remote Metering for the Industry (ReMI) programme. Sibelga has deployed Elster's solutions in an initial phase which will introduce automated meter reading (AMR) for Sibelga's commercial and industrial customers.

Elster has installed its EIServer™ solution on 9,000 C&I meters for the Belgian utility, together with its future-ready Meter Data Communication and Meter Data Management (MDC-MDM) system. With support for core MDC-MDM industry standards, the EIServer™ platform's unique versatility allows utilities to choose the integration model that best fits their needs, simplifies management of myriad device types and ensures compatibility with multi-vendor environments and new security models. The implementation at Sibelga also includes Elster's Meter Data Unification System (MDUS) webservices interface to the DNO's SAP system and legacy metering infrastructure.
"Elster's deep industry knowledge, the strength of our technology, and experience in successfully delivering smart metering platforms that integrate seamlessly with legacy infrastructure made us the stand-out choice for Sibelga during the tender process," says Frank Arbyn, the Sibelga Project Manager at Elster. "Our MDUS solution was the only one that could interface with Sibelga's SAP system and complex mix of C&I smart meters and legacy meters, which require a specialist means of remote communication. We are delighted to be kick-starting this relationship with Sibelga, who are one of the most forward-thinking utilities in Europe."
With initial implementation of Elster's end-to-end solution complete, Sibelga's ReMI programme will go live in October 2014. Designed specifically to support utilities needing to meet new market demands as smart metering rollouts gather pace, EIServer™ ensures that Sibelga now has the flexibility to scale its system according to its future smart metering requirements.
"In the residential and C&I metering environments, use cases will become more complex and demand high performance and scalability," continues Arbyn. "EIServer™ addresses these challenges by providing a simple and scalable system for managing different device types simultaneously and accommodating multi-vendor performance while enabling utilities to move towards a common information model. We're hopeful that the next phase of the ReMI programme will extend the offering across Sibelga's residential customer base, which will entail the rollout of our solutions on an additional 50,000 gas and electricity smart meters."
Featured Product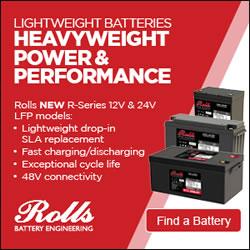 Designed for true drop-in replacement, Rolls new R-Series 12V & 24V LFP lithium models offer a maintenance-free lightweight flooded and SLA alternative in four popular BCI case sizes with fast charge/discharge capability. Rolls custom built-in BMS provides all necessary operating protections for safe operation and seamless integration for deep cycle replacement in 12V, 24V or 48V systems.