At Stion, we believe solar module production should be an environmentally friendly process.
SAN JOSE, Calif.--Stion, a leading manufacturer of proprietary, high-efficiency, monolithically integrated CIGS thin-film solar modules, announced the release and certification of the Elevation 4 module line which delivers up to 10% more energy than conventional crystalline silicon modules with the same power rating. This module line is currently available in variants ranging from 135 Watts to 155 Watts in 5 Watt increments. Stion's Elevation 4 modules are certified to the ANSI/UL 1703, IEC 61730 and IEC 61646 standards.

Through innovative product enhancements, the Elevation 4 module provides exceptional energy yield due to an anti-reflective coated glass and industry leading temperature coefficient of -0.26%/oC. Stion modules boast leading energy generation density (kWh/ft2) over conventional silicon based modules and consistently outperform crystalline silicon modules in side-by-side tests around the world.
The Elevation 4 module utilizes Stion's proprietary Circuit Protection System (CPS)TM which provides significantly improved moisture resistance and lifetime durability over crystalline silicon modules. Stion modules are resistant to potential induced degradation, light-induced degradation, and provide a durable solution engineered to survive in harsh environments and out-perform in non-ideal situations.
At Stion, we believe solar module production should be an environmentally friendly process. Stion's proprietary, monolithically integrated CIGS high-efficiency thin-film solar modules use significantly less energy and raw materials than traditional PV modules and are fully compliant with the European Union Restriction of Hazardous Substances (RoHS) directive. The all-black Elevation 4 series modules deliver the unrivaled aesthetic appeal that Stion customers have come to appreciate.
In a statement from Stion CEO Chet Farris, "We are pleased to announce this new and improved product line as part of our commitment to bring the best product value at highest quality in the industry to our customers. Another step in our quest to always be Simply Better as our trademark implies."
About Stion:
Stion is a leading manufacturer of high-efficiency thin-film solar modules based on state-of-the-art materials and device technology and proven production processes. For more information, visit www.stion.com.
Featured Product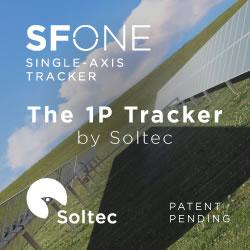 SFOne is the 1P single-axis tracker by Soltec. This tracker combines the mechanical simplicity with the extraordinary expertise of Soltec for more than 18 years. Specially designed for larger 72 an 78 cell modules, this tracker is self-powered thanks to its dedicated module, which results into a lower cost-operational power supply. The SFOne has a 5% less piles than standard competitor, what reduces a 75% the labor time.