Join industry leaders from AVL, Bosch, Chrysler, Ford, GM, Intertek, Johnson Controls, LG Chem, Magna Steyr, Navigant Research, NEC Energy Solutions, NextEnergy, Nissan, Sakti3, TUV SUD, Valeo, Xalt Energy and many more to hear about latest advances and challenges for grid storage and xEV batteries
February 2015 Battery Seminar (February 10-11, 2015)

Seminar Venue: The Inn at St. John's Golf Resort - 44045 5 Mile Rd., Plymouth Township, MI 48170 (USA)
Facility Tour & Cocktails Reception: Intertek - 45000 Helm Street, Suite 150, Plymouth, MI 48170 (USA)
Event Registration Link: http://tinyurl.com/PlugVoltFeb2015Seminar
Program Agenda, Discounted Hotel Registration & Additional Details: http://plugvolt.com/blog/category/seminars/
--------------------------------------------------------------------------------
Key Battery Seminar Event Highlights:
- Unique opportunity on Day 1 to participate in several unbiased, technical deep-dive presentations by an independent electro-chemist on thermodynamics and kinetics of cell reactions, cell design principles, battery safety assessment, the worldwide status quo of some raw materials presently under research, technological advances and recent developments in anodes, cathodes, electrolytes, separators, etc., and alternative energy storage technologies such as fuel cells and flow batteries
- Well complemented presentations on Day 2 by a reputable, industry guest speaker panel coming from AVL North America, Bosch Battery Systems, Chrysler, Ford, General Motors (GM), Intertek, Johnson Controls (JCI), LG Chem, Magna Steyr Battery Systems, Navigant Research, Nissan North America, Sakti3, Valeo North America, Xalt Energy, and many more
- Presentation by Navigant Research on market trends and forecasts for Li Ion use in Transportation applications, looking at the supply and demand for Li Ion batteries in electric two wheelers, start-stop vehicles, hybrid & plug-in vehicles and truck markets
- Evening cocktails reception / networking mixer
- An exclusive guided tour of the Intertek battery test facility, which supports environmental simulation, vibration, durability, battery performance and abuse, and electrical safety certification testing
- Poster presentations in a Hospitality Suite by Wildcat Discovery, TUV SUD America, NEC Energy Solutions (formerly A123 Energy Solutions), Saint-Gobain, HEL Group, NextEnergy and many more with complimentary lunches, coffee breaks, and plenty of industry networking
Sponsorship opportunities are available for Lunches, Coffee & Refreshment Breaks, USB Drives for Proceedings, Lanyards, Seminar Bags, and Literature Distribution. For additional details, complete program agenda and seminar registration form please visit:
http://plugvolt.com/blog/category/seminars/
Questions? Visit www.plugvolt.com for more details.
Featured Product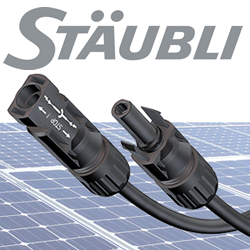 ​Stäubli Electrical Connectors are used on more than 300 GW, over 50% of the PV capacity worldwide. The MC4 family of UL and TUV listed products include connectors, in-line fuses, branch connectors, cable assembly and more.