South America's biggest solar car race, with a solar car that was powered by Panasonic's HIT(R)* solar modules and high-capacity lithium-ion batteries.
POZO ALMONTE, Chile---Panasonic Corporation today announced a team from Tokai University in Japan won the Carrera Solar Atacama 2014, South America's biggest solar car race, with a solar car that was powered by Panasonic's HIT(R)* solar modules and high-capacity lithium-ion batteries.

Panasonic-Backed Tokai University Team Wins @Carrera_Solar 2014 in Chile
[Flash Report] https://www.youtube.com/watch?v=WCAR9PLaFk8
[Photos] https://plus.google.com/photos/102894371789579256396/albums/6083104091477595521
This year's competition in the Atacama Desert saw 25 teams from six countries participate with their vehicles fueled solely by the sun. The teams started off in Pozo Almonte in Chile on November 13 to complete a 1,082-kilometer course that has altitudes ranging from zero to over 3,400 meters above sea level. Tokai University's solar car team covered the distance in 15 hours and 20 minutes, crossing the finish line on November 17.
Panasonic also supported the team as a sponsor last year, when the students finished runner-up in the Bridgestone World Solar Challenge 2013 in Australia. The company provided the team with its HIT(R) solar modules boasting the world's highest conversion efficiency and high-capacity lithium-ion batteries. The modules and batteries demonstrated their excellent performance under the tough conditions of the race, contributing to the team's victory.
After winning the race, Professor Hideki Kimura of Tokai University, advisor to the solar car team, commented: "Since we participated in the solar car race in South America for the first time, we had to make a lot of efforts. It was a tough course over the Andes, with a maximum elevation difference of over 3,400 meters, but we were able to conquer the challenge thanks to the high performance of Panasonic's HIT solar cells and lithium-ion batteries, and the teamwork of the students. I'm very satisfied with such an exciting race with Chile's team until the last day."
Panasonic HIT Solar Module and Lithum-ion Battery
The HIT solar cells that Panasonic provides have a unique hybrid configuration with a crystalline silicon substrate surrounded by ultrathin amorphous silicon layers. Compared to ordinary crystalline silicon-based solar cells, Panasonic's HIT solar cells generate excellent power at high temperatures and deliver high energy output per unit of area. This makes Panasonic's HIT solar cells ideal for solar cars which compete under the scorching sun. The HIT solar cells for the Tokai University team are purpose-built for the solar car race, using the same solar cells - the main component that converts the sunlight into electricity - that are mass-produced for the residential market.
The rechargeable batteries Panasonic is providing are the cylindrical 18650 type (18 mm in diameter x 65 mm in height) high-capacity lithium-ion battery cells which use the company's proprietary nickel-based positive electrode. The high-capacity and lightweight battery cells store excess power generated by the HIT solar cells so that the car is able to continue running even on overcast days.
By providing a combination of energy-creation and energy-storage solutions with its high-capacity lithium-ion batteries and HIT solar cells that boast world-class conversion efficiency for a mass-produced solar cell, Panasonic will support the Tokai University team's challenge in the solar car race that will be run under harsh weather conditions.
Featured Product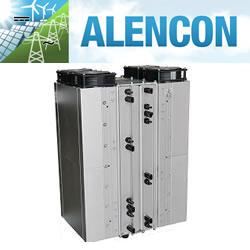 Alencon Systems is the premier manufacturer of high power, high voltage DC:DC optimizers for alternative energy applications including solar, battery energy storage, Microgrids, Fuel Cells and Electric Vehicle charging. Alencon's DC:DC converter offerings include the SPOT, BOSS and CUBE series DC:DC converters. The SPOT is a modular, uni-directional DC:DC solution ideal for solar applications. The BOSS is a modular, bi-directional unit for use with battery energy storage. The CUBE is a monolithic DC:DC converter which is available in both uni-directional and bi-directional modalities. Pictured above, is the Alencon SPOT.