The venture plans to build and operate four utility scale solar power plants in Bahia State, Brazil, by 2017.
BELMONT, Calif. and SAO PAULO, Nov. 24, 2014 -- SunEdison, Inc. (NYSE: SUNE), a leading global solar technology manufacturer and provider of solar energy services, and Renova Energia S.A. (BZ: RNEW11), the largest renewable energy company in Brazil, today announced that they have created an exclusive joint venture to develop, own, and operate 1 gigawatt of utility scale solar photovoltaic (PV) energy which will supply the Brazilian Regulated Electricity Market. Renova and SunEdison will each own a 50% stake in the joint venture. The venture plans to build and operate four utility scale solar power plants in Bahia State, Brazil, by 2017.

The joint venture will install 106.9 megawatts of solar by 2017 as part of contracts awarded by the Brazilian Energy Commercialization Authority, Camara Comercializadora de Energia Electrica (CCEE). The contracts were awarded in the 2014 Reserve Supply Auction (2014 LER), the first renewable energy auction in Brazil to specify a need for solar power plant capacity.
SunEdison will supply solar modules and trackers for the projects, to be assembled in Brazil, and solar plant construction will be financed by the Brazilian Development Bank (BNDES). This supply agreement guarantees access to SunEdison's world class technology at competitive pricing while mitigating supply and exchange rate risks.
SunEdison and Renova fully support the development of solar energy in Brazil, a country that has fully embraced renewable energy sources. Brazil recently adopted a full regulatory framework for solar energy, and is making great strides towards incorporating solar energy as a definitive part of the country's energy supply.
"Renova's joint venture with SunEdison positions us as the best entity to serve the needs of the Brazilian renewable energy market," said Mathias Becker, President of Renova. "This opportunity to enter the solar energy market has been two years in the making, and we're excited to see the tremendous support from the Brazilian local and state authorities in developing this and other opportunities for utility scale solar."
"We are proud to partner with Renova, the most innovative and respected renewable energy company in Brazil," said Jose Perez, SunEdison president for EMEA and Latin America. "Aligning the best partners, financiers, and products in a joint venture like this ensures cost competitive, clean energy for the local utility. This agreement reinforces our leading position in Latin America."
About Renova
Renova is the largest renewable-source power generation company in Brazil by installed capacity. It focuses on wind energy generation, solar power, and small hydroelectric plants. It is dedicated to development, construction and operation of renewable-source electric power generation. For more information, please visit www.renovaenergia.com.br
About SunEdison
SunEdison is a global leader in transforming how energy is generated, distributed and owned. SunEdison manufactures solar technology and develops, finances, installs and operates distributed solar power plants, delivering predictably priced electricity and services to its residential, commercial, government and utility customers. SunEdison also provides 24/7 asset management, monitoring and reporting services for hundreds of solar systems worldwide via the company's Renewable Operation Center (ROC). SunEdison has offices in North America, Europe, Latin America, Africa and Asia. SunEdison's common stock is listed on the New York Stock Exchange under the symbol "SUNE." For more information, please visit www.sunedison.com
Featured Product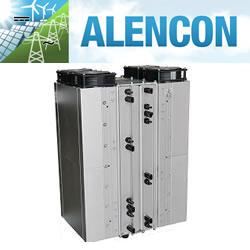 Alencon Systems is the premier manufacturer of high power, high voltage DC:DC optimizers for alternative energy applications including solar, battery energy storage, Microgrids, Fuel Cells and Electric Vehicle charging. Alencon's DC:DC converter offerings include the SPOT, BOSS and CUBE series DC:DC converters. The SPOT is a modular, uni-directional DC:DC solution ideal for solar applications. The BOSS is a modular, bi-directional unit for use with battery energy storage. The CUBE is a monolithic DC:DC converter which is available in both uni-directional and bi-directional modalities. Pictured above, is the Alencon SPOT.