Investment an Outcome of the Successful Panasonic-Coronal End-to-End Solar Solution Model
NEWARK, N.J., Dec. 11, 2014 -- Panasonic Enterprise Solutions Company announced that it has made a strategic investment in alternative energy firm Coronal Group LLC. Since 2013, Panasonic and Coronal have worked together to bring comprehensive, end-to-end solutions for solar photovoltaic projects to the commercial, industrial, municipal and small utility sectors. The two companies have developed, built and now operate or are currently constructing a portfolio of solar systems in North America—totaling nearly 100 megawatts (MW) of renewable energy, and are assembling a significant project pipeline.

"Panasonic is one of North America's largest developers in the solar sector. Our investment in Coronal Group will accelerate our fast growing platform with Coronal as an integrated solar energy solution provider for customers with a shared understanding of the value of solar energy production and sustainability, both for the environment and the bottom line," said Jamie Evans, the company's Managing Director of Eco Solutions, and who will serve on the board of Coronal. "Given the promise of the solar market, together the Panasonic-Coronal team is aggressively looking for additional investment opportunities and strategic partners," he said.
"Working with Panasonic, we believe we offer a unique platform to create the optimal, end-to-end solution for commercial, industrial, municipal and small utility solar projects," said Jonathan Jaffrey, CEO and Managing Director of Coronal Group. "This investment strengthens the exclusive relationship between Panasonic and Coronal and provides additional growth capital to allow us to continue to fill critical gaps in the solar market."
Earlier this year, Coronal opened an office in Canada to expand its presence and support projects in collaboration with Panasonic Eco Solutions Canada. In addition, the Panasonic-Coronal team is actively working to extend its platform into other geographic regions.
Panasonic-Coronal projects completed or underway in 2014 include:
*The development of a 26-megawatt solar system near Lost Hills, California that will generate emission-free power to be sold to Southern California Edison.
*Acquisition of the 6 MW Balsam Lake Solar Project from Balsam Lake Green Energy in Canada. The project is part of the Ontario Power Authority's Feed-In Tariff Program. It is under construction with plans for operation in 2015.
*Completion, earlier this year, of nine solar projects in central California. The projects provide 16.2 MW of energy to Southern California Edison to power approximately 2,600 homes annually.
*The construction of 11 solar projects at shopping centers nationwide, for leading retail property owner and developer Macerich Company, which are expected to yield up to 10 MW of clean energy.
Featured Product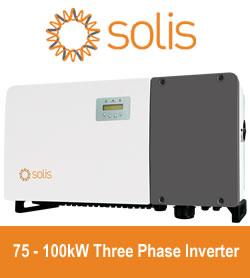 Solis75kW - 100kW series high-power string inverters are widely used in industrial and commercial rooftops. Solis's new three-phase string inverter is the first choice for industrial and commercial photovoltaics. 75-100kW three phase series string inverter have Maximum 28 strings input, support "Y" type connection in DC side. Maximum string input current 13A, support bifacial modules access.Supports anti-PID function to improve system efficiency.