Join industry leaders from AVL, Bosch, Cap-XX, Chrysler, Ford, Gamry, GM, Intertek, LG Chem, Magna Steyr, Navigant Research, NEC, PEC, NextEnergy, Nissan, SaintGobain, Sakti3, THT, TUV SUD, Valeo, Xalt Energy and many more to hear about latest advances & challenges for grid storage and xEV batteries
February 2015 Battery Seminar - Detroit (USA)

Boston Power joins AVL, Bosch Battery Systems, Chrysler, Ford, GM, Intertek, LG Chem, Magna Steyr Battery Systems, Navigant Research, Nissan, Sakti3, Valeo and Xalt Energy in the Automotive Panel, to speak about "weldless" module systems for large electric vehicle (EV) battery packs.
You are invited to register and attend this exciting, two day Battery Seminar on February 10-11, 2015 in Metro Detroit, Michigan (USA).
Review full program agenda and registration information at www.plugvolt.com, or contact JC Soman today at juratesoman@plugvolt.com if you have any questions.
--------------------------------------------------------------------------------
Key Event Highlights:
- Several unbiased technical sessions by Dr. Paul Gifford - an independent electrochemist with no sales or marketing pitches – on thermodynamics and kinetics of cell reactions, cell design principles, battery safety assessment, technological advances and recent developments in raw materials, anodes, cathodes, electrolytes, separators, etc., and alternative energy storage technologies such as fuel cells and flow batteries
- Complementary industry updates from A123, AVL North America, Bosch Battery Systems, Boston Power, Chrysler, Ford, General Motors, Intertek, LG Chem, Magna Steyr Battery Systems, Nissan North America, Sakti3, Valeo North America, and Xalt Energy
- Presentation by Navigant Research on market trends and forecasts for Li Ion battery use in Transportation applications, taking a look at the supply and demand for Li Ion batteries in electric two wheelers, Start-Stop vehicles, Hybrid and Plug-In vehicles and truck markets
- Exclusive guided tour of Intertek battery test facility, which supports environmental simulation, vibration, durability, battery performance and abuse, and electrical safety certification testing
- Poster presentations by Cap-XX, Gamry Instruments, HEL Group, NEC Energy Solutions, NextEnergy, PEC North America, Saint-Gobain Plastics, Thermal Hazard Technology, TUV SUD America, Wildcat Discovery Technologies….and many more!
- Complimentary meals and evening cocktail reception
- Plenty of industry networking opportunities
- Chance to win an Apple iPad or a Samsung Galaxy Notepad in a giveaway
Sponsorship opportunities are available for Lunches, Coffee & Refreshment Breaks, USB Drives for Proceedings, Lanyards, Seminar Bags, and Literature Distribution. For additional details, complete program agenda and seminar registration form please visit:
http://plugvolt.com/blog/category/seminars/
Questions? Visit www.plugvolt.com for more details.
Featured Product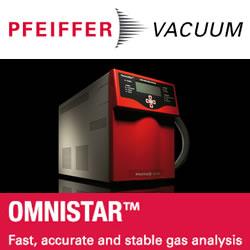 The Pfeiffer Vacuum OmniStar benchtop analysis system offers you a compact footprint, powerful software and Ethernet connectivity. It's the optimum solution for many real-time gas analysis applications. With the OmniStar, Pfeiffer Vacuum offers you a complete solution for gas analysis, in chemical processes, semiconductor industry, metallurgy, fermentation, catalysis, laser technology and environmental analysis. The turnkey OmniStar gas analysis system consists of heated, temperature-regulated gas inlet system, Quadrupole mass spectrometer, a dry diaphragm vacuum pump and HiPace turbopump. Unlike competing methods such as FTIR, OmniStar is suitable for qualitative and quantitative analysis of most gases.