Complex and costly heat pump restriction does not apply south of the border / Industry body argues for change to Scots law to reverse 13% gap
Green heat technology which could remove Scots households from fuel poverty is being stifled by restrictive planning conditions, according to industry body Scottish Renewables.

Air source heat pumps, which can warm buildings using a fraction of the energy of conventional gas boilers, are subject to complex building regulations in Scotland – but not in England and Wales.
Figures from energy regulator Ofgem show only 26% of domestic renewable heat installations in Scotland are air source heat pumps, compared to a UK average of 39%.
Scottish Renewables, which represents more than 300 organisations working in renewable energy, is working with government to have the planning rules – known as permitted development rights – changed.
Stephanie Clark, Policy Manager at Scottish Renewables, said: "Heat pumps are a fantastic tool with which to combat fuel poverty. Scotland has ambitious renewable heat targets and this is technology which can help us reach them.
"In England and Wales, homeowners can install an air source heat pump without the need to apply for planning permission. In most cases in Scotland, they must do so.
"This adds a significant hurdle in terms of time and expense, and is putting many people off."
An air source heat pump extracts heat from the outside air in the same way that a fridge extracts heat from its inside. The technology can extract heat from the air even when the temperature is as low as -15C.
This heat can then be used in radiators or underfloor heating systems, as well as to provide hot water in a building.
Heat pumps need a small amount of electricity to run, but the energy they extract from the ground, air, or water is constantly being renewed naturally. The technology was first described by William Thomson, the first Lord Kelvin, at Glasgow University in 1852.
________________________________________
CASE STUDY
Jenny McLaren, Director of Fife business The Natural Energy Company, told how the extra time needed to apply for planning permission is "a real barrier" to homeowners wanting to replace a fossil fuel boiler with clean, cheap renewable technology.
She said: "The need to apply for planning consent creates a timescale which is a real barrier to homeowners considering a heat pump instead of fossil fuel boiler.
"Two of our customers who have finally received planning permission recently to install air source heat pump/gas hybrid boilers found the process took around three months.
"Fortunately their existing boilers are still operating and this process has been over the summer, however this would be very different if it was in the middle of winter and their boiler had broken down. The homeowner would simply not be able to consider waiting for planning permission and would therefore been forced to stay with fossil fuel heating.
"In our experience, local councils will not consider fast-tracking renewable heating planning applications and therefore actively discourage the uptake of renewables which would save homeowners money and help reduce carbon emissions from Scotland's heating sector."
________________________________________
Featured Product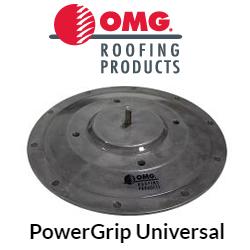 Eliminate Solar Rack Ballast and Reduce Rooftop Material Handling. PowerGrip™ Universal (PGU) is a commercial roof mount system designed to secure solar racks and other equipment to any type of commercial roofing system. PGU provides a secure connection directly to the roof deck or structural members and is designed to reduce or eliminate ballast in solar racking systems, so there's less weight on the roof and less material handling. Made of heavy-duty cast aluminum, PGU units include a base ring which is secured through the roofing cover and into the structural roof deck, and a waterproof top plate.