Global Clean Energy, Inc. (OTC PINK: GCEI) is a precious metal recovery and high value waste conversion business, focusing on the recovery of Platinum Group Metals and derivatives from the tires and industrial plastic industry.
SOURCE: Global Clean Energy, Inc.
Global Clean Energy, Inc.
December 29, 2014 09:00 ET
Global Clean Energy, Inc. Year-End Update
HOUSTON, TX--(Marketwired - Dec 29, 2014) - Global Clean Energy, Inc. (OTC PINK: GCEI) is a precious metal recovery and high value waste conversion business, focusing on the recovery of Platinum Group Metals and derivatives from the tires and industrial plastic industry. The company incorporates the best available technologies worldwide. All GCE systems will have performance output guarantees in place to ensure that the company's stringent return on invested capital is met.
GCE is proceeding with its planned acquisition of a PGM business. The Platinum Group Metals includes platinum, palladium and rhodium which are widely used in industry, technology and vehicles globally. GCE expects to report revenues of approximately $20M per year in 2015 based on the acquisition. The company will be a fully vertically integrated operation from procurement through smelting on route to recovering up to 99% of the precious metals found in end of life catalytic converters. The management team will be comprised of top executives from the 2 companies.
The PGM market is robust. Leading PGM analysts expect annual palladium deficits of approximately 2 million ounces per year for the next three years. Palladium mine supply production this year will fall to its lowest level in nearly 20 years, while demand for the metal continues to grow, according to a December 1, Citigroup research report. On the demand side, analysts point to United States' demand, as well as China's drive to enforce auto emission Euro 5 standards and the burgeoning market in Brazil. GCE has agreements in place with a major auto manufacture to buy and sell converters on their behalf to supplement their supply chain.
The acquisition previously scheduled to close in Q4 2014 is on track for late January 2015. Final structuring and audit requirements have delayed the closing but the companies have been working closely together throughout the process. GCE's primary technology supplier has been actively engaged and working on a range of critical development areas.
2015 will see GCE continuing to move ahead with its waste conversion sites. GCE has locked feedstock from 2 of the largest US plastic and tire sources in the industry. The waste to fuels project will deconstruct both plastic and tires in two separate pyrolysis lines to create transportation fuel and carbon char and has confirmed offtake agreements for its byproducts. GCE will move quickly to develop a hybrid conversion site and will finalize its joint venture structure with a proven pyrolysis technology company in Q1 2015.
To date GCE management has been acquiring stock. None of the current Officers or Directors has been selling stock. They continue to believe that the GCE stock is undervalued and continue to increase their stakes in the company.
GCE has complied with all the requirements of the AMF, having prepared and deposited audited information for every quarter since Q3 2012, and has submitted all the necessary compliance materials. The company is expecting the CTO to be remedied shortly, and is fully cooperating with the AMF. The Canadian requirements are more stringent and costly than those required in the US.
In early 2014, GCE made inroads into the Bio Fuels market in close collaboration with Seneca Bio Fuels in Upstate NY. The company closely evaluated the conversion of significant dairy cattle waste for energy project with an excellent site and operating team in place. After careful analysis GCE determined the supply, PPA per KW and capital costs did not meet its investment criteria. GCE opted not proceed with the Seneca site development.
Statements in this release may be regarded, in certain instances, as "forward-looking statements" pursuant to certain sections of the Securities Act 1933 and the Securities Exchange Act 1934, respectively. "Forward-looking statements" are based on expectations, estimates and projections at the time the statements are made, and involve risks and uncertainties, which could cause actual results or events to differ materially from those currently anticipated, including, but not limited to delays, difficulties, changed strategies, or unanticipated factors or circumstances affecting Global Clean Energy, Inc. and its business. There can be no assurance that such forward-looking statements will ever prove to be accurate and readers should not place undue reliance on any such forward-looking statements contained herein. Global Clean Energy Inc. will not republish revised forward-looking statements to reflect events or circumstances after the date hereof to reflect the occurrence of unanticipated events.
Contact Information
GLOBAL CLEAN ENERGY, INC.
Investor Relations
713-852-7474
www.globalcleanenergy.net
http://www.marketwired.com/press-release/global-clean-energy-inc-year-end-update-otc-pink-gcei-1979572.htm
Featured Product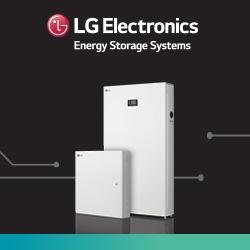 Meet LG Electronics Home 8 Energy Storage System (ESS), a whole home battery backup solution built with installers and their homeowner customers in mind. The ready-to-deploy Home 8 features just one SKU and a modular assembly for fast installation. It can be AC-coupled or solar-powered and is engineered with a grid-connected inverter, four battery modules, and a Smart Energy Box featuring a 7'' LCD touchscreen with commissioning wizard for easy setup. Each Home 8 unit can store up to 14.4 kWh of usable power, helping homeowners gain pure independence from the grid. Plus, installers can connect up to four units, bringing customers up to 57.6 kWh of total backup power-all easily managed and monitored through intuitive mobile apps.