Domino and Sunible are joining forces to bring solar and other clean energy solutions to millions around the world and drastically reduce global carbon emissions.
Oakland, CA January 14, 2015

Sunible Inc. announced today that it has been acquired by solar pioneer Tom Dinwoodie's new venture, Domino.
Dinwoodie is a leading expert in solar power with over 25 years of experience in renewable energy. He built his Berkeley-based PowerLight Corporation from a one-man shop into a profitable multi-million-dollar company that merged with solar giant SunPower, where he served as both CTO of the acquired subsidiary and CEO. Dinwoodie serves on several boards and has a number of solar patents to his name.
Dinwoodie and Domino are now joining forces with Sunible to bring solar and other clean energy solutions to millions more people around the world while drastically reducing global carbon emissions.
"We're excited for Sunible to join the growing Domino community," said Dinwoodie, Domino founder and CEO. "The Sunible team's solar knowledge and deep understanding of data, user behavior, and product development will help realize the vision of Domino. Together, we'll show consumers how low-carbon living can be lower-cost, healthier, lifestyle-enhancing, and lead to a world of abundance for ourselves and our children."
Sunible's mission was to put solar on 5 million more roofs by 2018. In order to do that, the company tackled customer acquisition from both the consumer and enterprise sides. For consumers, Sunible built an online service that lets homeowners discover their solar options and make decisions faster. On the enterprise side, Sunible created an on-demand prospecting and market intelligence service.
Domino is expanding on the Sunible platform to not only take solar mainstream but also provide individuals everything else they need to go 100% carbon-free.
Stephen Torres, founder and CEO of Sunible, will serve as COO at Domino. "At Sunible, we love data. We've been putting together a proprietary set of data to build a platform like no other that connects homeowners and solar installers quickly and easily. For installers, that means much lower customer acquisition costs. For homeowners, we've greatly simplified the process of going solar, removing the hassle and stress. Now we're taking that to the next level with Domino, by adding a host of other actions anyone can take to reduce their carbon footprint," said Torres.
"One of the first things we learned at Sunible was that residential solar's biggest problem was not the cost, but the decision-making experience. The cost of solar has dropped 90% over the past 25 years, but the average decision still takes 9 months. If we took the friction out of the decision, people would make more decisions!" said Dhanur Grandhi, co-founder of Sunible and now Head of Product at Domino. "Our consumer site enabled our first homeowner to go solar in 8 days, and our enterprise service helped installers find or qualify solar prospects in 6 seconds or less. By making it easier for buyers to buy and sellers to sell, the industry wins. Domino represents a natural extension of what we've been doing at Sunible."
Sunible was one of the original solar startups in the SfunCube, the world's only incubator and accelerator for solar startups. One of Sunible's key features was developed at a SfunCube hackathon, for which it won Best Technical Accomplishment. Now, Sunible is the first startup from the incubator to make a successful exit with an acquisition.
"It's gratifying to see one of the first SfunCube startups get acquired," said Danny Kennedy, President and co-founder of SfunCube, and co-founder of solar provider Sungevity. "Stephen and Dhanur have been part of the SfunCube community from the beginning, and we've seen them grow their company from an idea into something that could be a major force in the solar industry."
"SfunCube is thrilled for Sunible, and we can't wait to see what they do with Domino," added Emily Kirsch, co-founder and CEO of SfunCube. "This is what SfunCube is all about – nurturing solar startups so that they can grow and succeed, and make a difference in our industry."
The terms of the Sunible acquisition were not disclosed.
About Domino
Domino is a one-stop site that makes it easy for consumers to achieve clean, low-carbon living – and save money in the process. From changing light bulbs to going solar and everything in between, Domino guides individuals through actions they can take to enhance their lives, as well as help clean our air and water, achieve energy independence, and vitalize our economy. In collaboration with the Rocky Mountain Institute, Domino provides consumers the benefit of research and information condensed into easy-to-understand guides.
About Sunible
Sunible is an online platform for solar that's radically simplifying the home solar buying experience. Sunible makes it easy for homeowners to see activity in their area, compare firms, get quotes, and go solar. Installers benefit from high-quality leads, lower customer acquisition costs, and market intelligence. Sunible's mission is to put solar on 5 million more roofs by 2018.
About Tom Dinwoodie
Tom Dinwoodie is a leading expert in solar power with over 25 years of experience in renewable energy. He founded PowerLight Corporation, which later merged with SunPower, where he served as CTO. He serves on the boards of Etrion Corporation and the Rocky Mountain Institute, as well as the Sierra Club's Climate Cabinet and Scientific Advisory Panel. Dinwoodie holds numerous patents on PV and related products. He has a B.S. in Environmental Engineering from Cornell University, an M.S. from the Department of Mechanical Engineering at MIT, and an M.A. in Architecture from the University of California at Berkeley.
Featured Product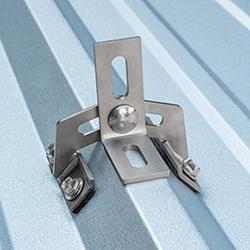 Explore new lines of income for your solar installation business with QuickBOLT's Stone Coated Steel roof mounts designed in partnership with metal roof manufacturers themselves. These SCS roof mounts work on all metal tile profiles and will help you bring in money you're missing out on. By not driving into the roofing material, QuickBOLT's Stone Coated Steel roof hooks maintain the integrity of the roof. Install with ease and confidence knowing your roof is protected against the harsh elements that these hooks are designed for.