The Solar Foundation's National Solar Jobs Census Finds that U.S. Solar Jobs Grew by 86% since 2010; 21.8% More than Last Year
Solar Industry Creating Jobs Nearly 20 Times Faster than Overall U.S. Economy

The Solar Foundation's National Solar Jobs Census Finds that U.S. Solar Jobs Grew by 86% since 2010; 21.8% More than Last Year
More than 31,000 new solar energy jobs created in 2014, bringing U.S. total to more than 173,800
WASHINGTON, DC, Jan. 15, 2015 – The Solar Foundation (TSF), an independent nonprofit solar research and education organization, today released its fifth annual National Solar Jobs Census
"The solar industry has once again proven to be a powerful engine of economic growth and job creation," said Andrea Luecke, President and Executive Director of The Solar Foundation. "The solar sector has grown an extraordinary 86 percent in the last four years, adding approximately 81,000 jobs. Our Census findings show that one out of every 78 new jobs created in the U.S. over the past 12 months was created by the solar industry – nearly 1.3% of all jobs. It also shows for the fifth consecutive year, the solar industry is attracting highly-skilled, well-paid professionals. That growth is putting people back to work and strengthening our nation's economy."
The solar installation sector is already larger than well-established sectors of fossil fuel generation, such as coal mining (93,185 jobs). The solar installation sector added nearly 50% more jobs in 2014 than the total created by both the oil and gas pipeline construction industry (10,529), and the crude petroleum and natural gas extraction industry (8,688). Solar employers are also optimistic about 2015, expecting to add another 36,000 jobs over the coming year.[i]
"The tremendous growth in the solar industry last year, including job growth that is outpacing the national average, is further evidence that we can clean our air and cut climate pollution while also growing the economy," said Michael R. Bloomberg, founder of Bloomberg L.P., philanthropist and 108th Mayor of New York City. "The more data we have about the renewable energy industry, the better positioned policymakers and investors will be to make informed decisions. The Solar Jobs Census has the potential to help make that possible."
"Demand for clean renewable power is growing. Solar exists at the critical intersection between energy, the economy, and the environment," said Robert Reich, former U.S. Secretary of Labor and Professor of Public Policy at the University of California at Berkeley. "As the nation's fastest growing energy source, solar is adding thousands of new jobs each year. Its growth will almost surely continue to be robust in coming years."
"SolarCity is extremely proud to be the largest solar employer in the U.S., and to have added more than 4,000 new U.S. jobs in 2014 – jobs that can't be outsourced," said Lyndon Rive, Chief Executive Officer of SolarCity (NASDAQ: SCTY). "Americans want greater clean energy deployment, and conventional electricity generation is among the largest sources of air and water pollution in the U.S. As the Censusunderscores, solar is providing a tremendous boost to our economy while meeting public demand for choice, competition, and cleaner, more affordable energy."
"SunEdison is an American company that employs thousands of talented men and women across the United States," said Ahmad Chatila, Chief Executive Officer of SunEdison (NASDAQ: SUNE). "As the largest renewable energy development company in the world, I'm very proud to be part of an industry that is creating thousands of high quality American jobs."
Corporate leaders heralded The Solar Foundation's Census findings, noting the exceptional double bottom line return on investment that solar deployment has provided them.
"IKEA is proud of its installation of approximately 40MW of solar arrays atop nearly 90% of our U.S. locations," said Rob Olson, Chief Financial Officer, IKEA. "We are thrilled that our solar investment also helps contribute to a growing clean tech economy – and accelerate the creation of new solar jobs throughout the country."
"At General Motors, we believe in the economic benefits that come with investment in and deployment of renewable energy," said Rob Threlkeld, Global Renewable Energy Manager, GM (NYSE: GM). "With more than 46 megawatts of solar housed at 18 facilities across the globe, we see the power of sunshine as an integral part of becoming a more energy efficient company."
The National Solar Jobs Census 2014 was conducted by The Solar Foundation and BW Research Partnership with support from The George Washington University. The report, derived from data collected from more than 7,600 U.S. businesses, measured employment growth in the solar industry between November 2013 and November 2014. The margin of error of this data set is +/-2.03%, significantly lower than any similar national industry study. "The study shows both aggressive hiring and clear optimism among U.S. solar companies," said Philip Jordan, Vice President at BW Research Partnership. "Of particular interest was the continued high wages among solar installers. Additionally, we found that the installation sector is generally more diverse than other energy sectors, hiring African-Americans and Latinos at a faster rate than the oil, gas, coal and construction sectors."
The full National Solar Jobs Census report is available at http://TheSolarFoundation.org. State-by-state jobs numbers, including a more detailed analysis of the Arizona, California, Georgia, Maryland, New York and Texas solar markets, as well as The Solar Foundation's updated State Solar Jobs Map, will be released in mid-February.
About The Solar Foundation:
The Solar Foundation® (TSF) is an independent 501(c)(3) nonprofit whose mission is to increase understanding of solar energy through strategic research that educates the public and transforms markets. Since 2010, TSF has published its annual National Solar Jobs Census, which established the first credible solar jobs base line for the U.S. The Solar Foundation is considered the nation's authority on the solar labor force and advises many organizations on the topic. TSF is also a leading provider of educational materials on the economic impacts of solar for local governments through its work with the U.S. Department of Energy. In addition, TSF chairs the National Solar Schools Consortium, a group of stakeholders seeking to make solar a larger part of the national K-12 system. More athttp://thesolarfoundation.org.
About BW Research Partnership:
BW Research is widely regarded as the national leader in labor market analysis for emerging industries and clean energy technologies. BW Research provides high quality data and keen insight into economic and workforce issues related to renewable energy, energy efficiency, transportation, recycling, water, waste, and wastewater management, and other environmental fields. The principals of the firm are committed to providing research and analysis for data-driven decision-making. More at http://www.bwresearch.com.
###
[i] EMSI Class of Worker Employment 2014.3.
SusanDV@aol.com
Featured Product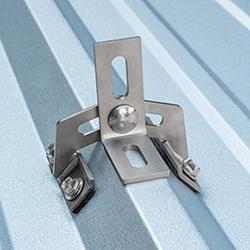 Explore new lines of income for your solar installation business with QuickBOLT's Stone Coated Steel roof mounts designed in partnership with metal roof manufacturers themselves. These SCS roof mounts work on all metal tile profiles and will help you bring in money you're missing out on. By not driving into the roofing material, QuickBOLT's Stone Coated Steel roof hooks maintain the integrity of the roof. Install with ease and confidence knowing your roof is protected against the harsh elements that these hooks are designed for.