"This Hyundai partnership is a giant first step in our new strategy of partnering with tier-one module manufacturers to license Andalay's patented technology."
SAN JOSE, Calif., Jan. 23, 2015 -- Andalay Solar (OTCQB: WEST), a leading supplier of integrated solar power systems, has entered into a Memorandum of Understanding (MOU) with Hyundai Heavy Industries whereby Hyundai intends to license and manufacture solar modules using Andalay's Instant Connect frame technology. The new Hyundai-branded TG-Series solar modules are expected to use 60-cell monocrystalline or polycrystalline technology (255w-280w) with a black Andalay frame, and will be manufactured in South Korea with an initial annualized capacity of over 50MW. The module is currently undergoing UL certification and is expected to begin shipping late in the first quarter of 2015.

"The addition of Hyundai as an Andalay frame technology partner will help us expand our sales in the rapidly growing U.S. residential solar market," commented Andalay Solar's President & CEO, Steven Chan. "The Hyundai brand is well known to end-consumers and the company's financial strength as an over $50 billion revenue company is also acknowledged by solar leasing companies."
"This Hyundai partnership is a giant first step in our new strategy of partnering with tier-one module manufacturers to license Andalay's patented technology. I expect these partnerships, each of which validates the value of our core technology, will serve as the key catalysts to enable us to rapidly expand adoption of our Instant Connect system among major installers in the marketplace. We already have pre-orders for over 1MW of the Hyundai TG-Series module and are excited to grow this rapidly," continued Mr. Chan.
Andalay was the first in the residential solar industry to receive a patent from the USPTO for its Instant Connect integrated solar technology which eliminates conventional racking and provides a cleaner look, safer wire management, and faster installation.
Andalay Solar products can be found at Amazon.com, Lowes.com, and www.andalaysolar.com.
About Andalay Solar: (OTCQB:WEST)
Founded in 2001, the Company is a designer and manufacturer of integrated solar power systems. The Company has been a pioneer in the concept of integrating the racking, wiring and grounding directly into a solar panel. The company's AC solar panel reduces the number of components for a rooftop solar installation by approximately 80% and lowers labor costs by approximately 50%. This AC panel, which won the 2009 Popular Mechanics Breakthrough Award, has become the industry's most widely installed AC solar panel. The Company currently sells its new generation "Instant Connect" products in both AC-ready and DC format which provide the best combination of safety, performance and reliability. For more information on the Company, visit www.andalaysolar.com.
Featured Product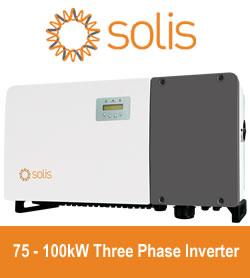 Solis75kW - 100kW series high-power string inverters are widely used in industrial and commercial rooftops. Solis's new three-phase string inverter is the first choice for industrial and commercial photovoltaics. 75-100kW three phase series string inverter have Maximum 28 strings input, support "Y" type connection in DC side. Maximum string input current 13A, support bifacial modules access.Supports anti-PID function to improve system efficiency.