Investment Enables Fenix International to Increase Production and Distribution of ReadyPay Solar Systems in Africa; Device Empowers Mobile Communications and Economic Development in Off-grid Areas
Fenix International Raises $12.6 Million in Financing

Investment Enables Fenix International to Increase Production and Distribution of ReadyPay Solar Systems in Africa; Device Empowers Mobile Communications and Economic Development in Off-grid Areas
SAN FRANCISCO, CA, JAN. 27, 2015 – Fenix International, a next-generation renewable energy company working in emerging markets, announced today that it has closed $12.6 million in Series B and working capital financing. Fenix International partners with global telecom companies such as MTN, Orange and Vodafone to supply mobile-enabled solar systems to off-grid African communities. Fenix aims to enhance quality of life for people who lack access to energy, communications, or the credit necessary to make such purchases.
This funding round includes investments from GDF Suez, Schneider Electric, Orange France Telecom, clean tech entrepreneurs Tom Dinwoodie and Warner Philips, and other impact investors. Fenix International, headquartered in Silicon Valley with offices in East Africa, designs, manufactures and distributes ReadyPay Solar, a mobile payment-enabled solar panel and smart battery, which empowers farmers and other rural residents with convenient, affordable access to clean electrical power. ReadyPay eliminates the need for dirty and dangerous diesel generators, candles and kerosene lamps that cause millions of fires and burns every year. Customers can charge their cell phones, run businesses after dark, and study using clean, bright LED lights connected to the solar-powered kit.
"Fenix's mission –to deliver improved quality of life to the 1.3 billion people who live without power in developing nations– is both inspiring and achievable," said solar industry pioneer and clean tech investor Tom Dinwoodie. "Fenix International's dedicated team has reached impressive milestones. ReadyPay Solar is in use in thousands of villages, helping tens of thousands of families modernize their homes and businesses with clean electricity, all for less than the cost of fossil fuels."
"ReadyPay Solar is an innovation at the intersection of renewable energy, mobile communications and microfinance that empowers East Africa residents to light their homes, grow their businesses and improve their quality of life," noted Fenix International founder and CEO Mike Lin. "Before ReadyPay, a solar energy system would cost a farmer more than a third of her annual income, but now she can finance clean, reliable electricity with her cell phone, by making micro-payments as little as $0.35 per day. This most recent infusion of capital will enable us to accelerate production and provide our breakthrough technology to even more communities throughout Africa."
"GDF SUEZ Rassembleurs d'Energies corporate impact investment fund finances economically feasible and sustainable innovations that deliver a positive social and environmental impact, while creating local jobs. Fenix International's ReadyPay Solar solution is fully in line with our mission of providing sustainable energy access to low income populations excluded from reliable energy services," said Gerard Mestrallet, Chairman and CEO of GDF SUEZ.
Jean Pascal Tricoire, Chairman and CEO of Schneider-Electric, said, "At Schneider Electric, we are convinced that the alliance of technology and innovative financing such as impact investing will be a major contributor to development through access to energy. We believe that Fenix International will be instrumental in this field and we are very proud that our Social Impact Fund (SEEA) participates to their development."
"With more than 600 million off-grid mobile connections globally, Orange Fab is very pleased to be working closely with Fenix International, an Orange Fab Accelerator alumni, to power these subscribers, improving their access to communications and the internet," said Georges Nahon, CEO of Orange Silicon Valley and President of Orange Institute.
About Fenix International
Founded in 2009, Fenix International (www.fenixintl.com) is a venture-backed renewable energy company with offices in East Africa and Silicon Valley. With core expertise in power electronics, product design and rural sales and marketing, Fenix's mission is to deliver quality of life to the 1.3 billion people who live without power in emerging markets. Fenix is a grant recipient from the Africa Enterprise Challenge Fund and from the GSMA Mobile for Development Foundation, Inc. (GSMA Foundation), which, in turn, received its funding by UK aid from the UK Government. The views expressed are not necessarily those of GSMA Foundation or the UK Government.
###
Susan DeVico
SusanDV@aol.com
Featured Product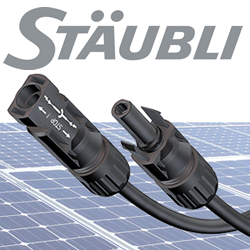 ​Stäubli Electrical Connectors are used on more than 300 GW, over 50% of the PV capacity worldwide. The MC4 family of UL and TUV listed products include connectors, in-line fuses, branch connectors, cable assembly and more.