Top Tier distributor to supply high quality inverters to market
Fortune Energy, a top tier wholesale distributor of turn-key solar solutions, has announced that they will begin carrying the brand Fronius, a manufacturer of top tier inverters, effective immediately.

"We are thrilled to welcome the addition of Fronius inverters into our solar product distribution portfolio," said Jack Meng, President, Fortune Energy Inc. "The advanced module-level power electronics uses the fewest components of any integrated module-based solution on the market." he added. "Through this collaboration, we are looking forward to supplying our growing US customer base with another high-quality, top tier inverter line."
Fortune Energy will be selling products from Fronius' SnapINverter generation of inverters, known for their sleek, lightweight design and flexibility. "Fronius string inverters are designed specifically for ease of installation, space savings and long-term servicing, which lowers overall system costs and making Fronius the most sustainable solution on the market." said Thomas Enzendorfer, Director of Solar Energy, Fronius USA.
"We are excited to offer an inverter with increased energy harvest and unrivaled bankability for optimum ROI. "said Karen Hale, Sales Manager at Fortune Energy. "The new inverter line streamlines design, maximizes energy production, and reduces shade impact, all while allowing for significant design flexibility." she added.
Fronius USA opened its doors in the United States in 2002 and has greatly contributed to the American solar market since. Under the terms of the agreement, Fronius will supply its inverters, which are developed at its headquarters in Indiana, for resale to Fortune Energy customers throughout the United States
About Fronius
Fronius USA LLC, headquartered in Portage, Indiana, is the leader in photovoltaic (PV) system inverters and applicable accessories. The company is a part of a global network and subsidiary of Fronius International GmbH, headquartered in Wels, Austria. Fronius USA LLC has three divisions: Perfect Welding, Solar Energy and Perfect Charging. Through innovation and new technologies, Fronius USA has become a resource for quality service, products and innovations to the growing solar industry. For more information, visit www.fronius-usa.com.
About Fortune Energy Fortune Energy is wholesale solar-product distributor and one-stop solution provider. Its services are designed to fit the needs of solar contractors seeking to lower their customers' energy costs, improve their wattage efficiency and provide full support.
For information, contact the Fortune Energy Marketing Department: Marketing@FortuneEnergy.net
Sac Office: 241 N. 10th Street, Unit 4, Sacramento, CA 95811 Tel: 916-492-2797 Fax: 916-492-2874
www.FortuneEnergy.net
Featured Product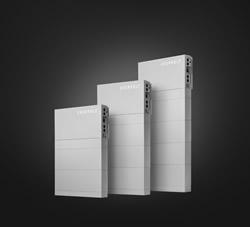 Renewable energy stored in an EVERVOLT home battery system is the perfect backup plan against an uncertain utility grid and weather events. Run key appliances longer and live life when the unexpected happens. EVERVOLT battery storage systems are covered by a complete 12-year warranty from Panasonic.